Pump, or drown
Windmill cushions have taken their final shape today. I used cotton fabric and square shapes for the man-made parts of the little landscapes on top: fields, polders, windmills. And I used felt and sinuous shapes for the natural elements: rain, puddles of water, waterways, giant waves that will flood us eventually.
Some areas of the tops turned out to be major mind benders –  it turned out to be very difficult to make patterned fabric and single-coloured fabric work side by side. Example: the way the uni-coloured windmills stuck out – they just refused to blend in. Mulling this over, a  book I once read about a family of tapestry makers from the middle ages came back to me. It stated that tapestry designers use lots of patterns because large uni-coloured areas don't work very well in a wall hanging. Well, they don't work in a cushion top, either. Fired by this recollection I solved my particular puzzle by making better use of patterns, f.ex. by sewing on bits of felt for raindrops and by embroidering the windmill's sails with a blanket stitch.
I love the endearing and somewhat clumsy images one gets when working with fabric. A bit like a child's drawing really. Totally at odds with the more threatening aspects of the windmill situation, which says: you Dutch either pump, or drown.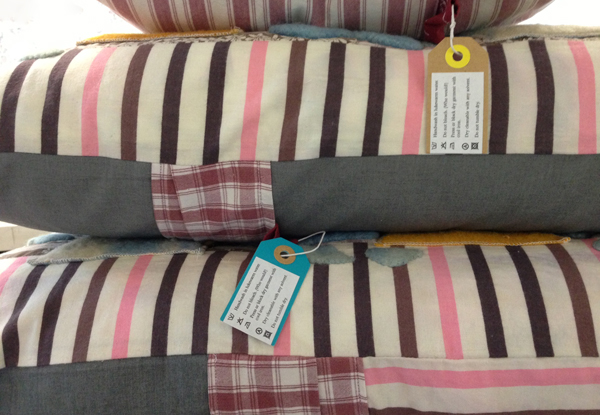 I've  recently promised myself to take my work more seriously. This is to be expressed (amongst other things) in taking better care of the way I present my stuff.  So I've taken unprecedented care with the trimmings this time: nice logo, nice labels. And I must say that this wasn't a total waste of time. The finished product does look more professional now.