Clever – Hamilton, NZ july 2012
Artwork below is one of a series of  litographs and etchings by Marion Maguire, presently on show at Waikato Museum, Hamilton, New Zealand.
Mrs Maguire has taken Hercules –  working class hero of Greek mythology – and made him a New Zealand settler, making for a series of very tongue-in-cheek works of art that I really liked. Their visual language derives from  greek pottery & such, and is also very close to the artwork done by native Maori's. A clever way to remind us that the ancient greeks and the not-so-ancient Maoris had a lot in common -an inventive and warlike lot, both. The main difference between the two being that we put the Greek in our canon, where the Maori had no written language and so missed out on being studied at highschool.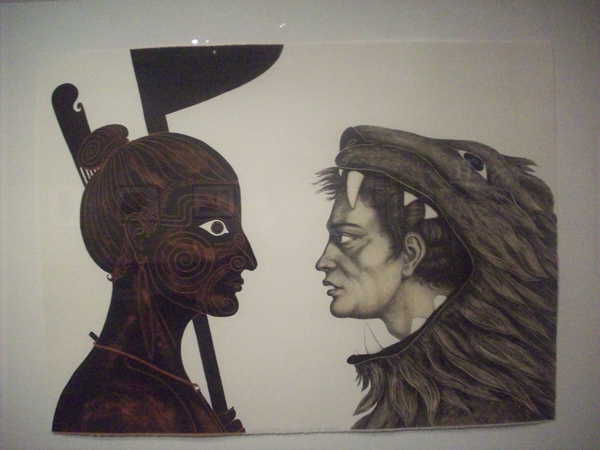 This is Ruapehu  by Fred Graham, 2012.  Mr Graham is of Maori descent. Interesting to see the delicate balance the museum in Hamilton is striking between Maori and Pakeha (whites), trying to do justice to both sides. The essential conflict between residents and newcomers is still being settled, with an apology in 1995  by NZ government to Maori tribes being cheated out of their lands, and disputes about water rights still under way. Artists must be sensitive to this fault line – a lot of the stuff I am seeing deals with this tension.