Tropenmuseum – the Dono Code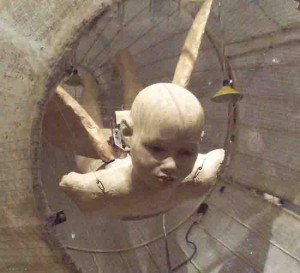 Went to the Tropenmuseum today to see more of Heri Dono's work..   The Tropenmuseum invited Heri Dono because he has created his own visual language retaining much of his heritage as an Indonesian artist. Under the title "the Dono code" his work is now presented there
Quote from the exhibition text: "His work is influenced by European artists like Matisse and Picasso, and by art movements such as Cobra.
Dono prefers not to distinguish between high art and low art. He works with sound, light, shadow and movement. A central theme in his art is the ever-changing structure of Indonesian society, which is intrinsically connected with developments in the rest of the world. The message is intended for a wide audience; and while broadly recognisable and accessible, since it has not always been possible to criticise politicians openly in Indonesia, it employs its own code. In the Dono Code, the artist takes on the role of clown, levelling criticism with wit and irony."
Shown here is 'Flying in a Cocoon', where Heri Dono's angel, once flying freely, has withdrawn into a cocoon. The work is an ironic coment on the Reformasi (1988).
It was different, seeing Heri's work here, different from seeing it at the Centraal Museum. One has to walk right through the Tropenmuseum's permanent exhibition to come to the room that Heri's work is in. It connects him with 'etnic art' to a degree that became uncomfortable to me.  Indonesia probably doesn't have a museum where Job Koelewijn, for instance, would find his work placed in the middle of a permanent exhibition about windmills, wooden shoes and interiors of Dutch houses in the '50's  …..
Anyway, thinking about a remark that Heri made during our workshop about present-day Indonesia and how it doesn't show any traces of the Dutch any more (in fact it is 'beyond the Dutch'), I then whiled away an hour or so trying to locate traces of Indonesia in present-day Amsterdam.  And found surprisingly little – if I don't take the houses into account that were built on Dutch East India Company gains. There are some toko's, some street names, the Albert Heyn has a good selection of Indonesian spices. The bookstore and the wine-and-coffee seller do not give any special attention to Indonesia, no more than they give to other 'exotic' countries. The 'week of the history book' gave nothing at all on our colonial past. It seems to be a chapter that we'd prefer to overlook.
Coming home I met with the real legacy that Indonesia has left the Netherlands: a 12-year-old houseguest that is 1/4th Dutch, 1/4th Javanese and 1/2 ethnical Chinese/Javanese. A truly international child, she comes complete with laptop to stay connected to her worlds  and speaks 4 languages fluently.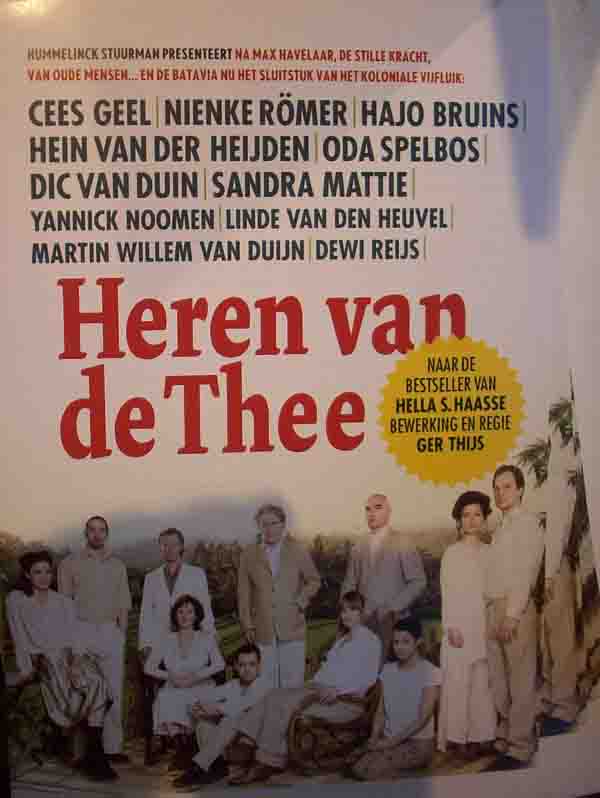 30/10: of course I overlooked something: Literature! Hella Haasse, Louis Couperus, to name but a few Dutch authors that weave Indonesia into their stories.