The Former West Conference 7/11/09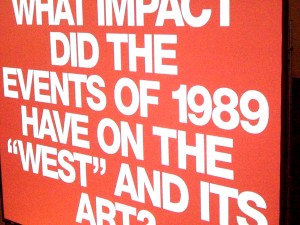 Went to the third and last conference day today. More interesting than yesterday – more discussion with the public, too. One artist challenged the whole idea of looking at the art world since '89 through a curators eyes – this is basically what the conference is about. He told  his story: lived in Paris in '89, never thought 'magiciens de la terre' was very interesting, too state-propelled. In his view, galleries and impromptu exhibits made by artists were far more interesting in those days, as – in his view – they are now.
Interesting to see the art world networking in the intermissions. Will have to carefully craft my own image and re-style my wardrobe if I want to circulate in that crowd. This I can do – seems like a fun exercise, too.