Meschac Gaba's Salle de Jeux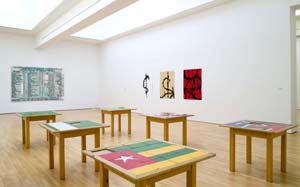 In Metropolis M' s october/november 2009 issue, in the article titled: "a little history of art and play" Meschak Gaba was mentioned, more especially his Salle de Jeux, part of his  "Museum of Contemporary African Art".
Quote from the SMAK site: "The Salle de Jeux contains three individual works. The 'Jeu d'échec' has the floor plan of a chess board in crayon and charcoal on the floor. The chess pieces that will compete depict a dollar team and a euro team. Then there is the 'Roulette' where the viewer/gambler stakes his claim to a ring or hanger designed by the artist. The six 'Table-puzzles' are playing tables with a top consisting of a square sliding puzzle, where the player can try to reconstruct six African national flags.
      
 The work is part of a larger 'idea for an African museum of contemporary art', about which Meschak Gaba himself says: " This museum to me is a way to show how African Art must be seen. It is a way to represent the fact that Africa has become a multicultural continent, and that we have to come to terms with this. The tradition is not neglected, one knows it, respects it and accepts it. Other non-neglectable ways of life have entered our original culture. To realise this project, it is not necessary to construct a building, what it needs is a couple of rooms where my project can be shown and furthered. The Museum for Contemporary African Art is a way of expressing things, a room for my work that is accessible, and  a language expressed by objects and performances. The project consists of twelve rooms and will end in the year 2000. When it is successful, African Art will be at the same level as other forms of art."  
Another  quote from Frieze's Sean O'Toole about Gaba: 'It is a pity people don't discuss humour in my work,' states Meschac Gaba in the square-sized catalogue accompanying his untitled solo exhibition at the Johannesburg Art Gallery (JAG), 'it's one of the most important aspects.' A bountiful word, implying a disposition that favours amusement over severity, the noun humour is also deceiving. While gifted with a light-hearted touch, this prolific artist's first major institutional outing in South Africa is underscored by a contemplative solemnity.
La Maison, a room comprising a large carpeted board game (Ludo), prompts interactivity (see pic). It was quiet when I attended, visitors from the neighbouring high-rises sidestepping the invitation to play (an unknown game?) and heading straight for the Salle de Jeux, another game room. Composed of six tables, the object is to reconstitute the fractured African flags in the slide puzzle game. Even when static, the tables are fascinating. The chaos of colour and line recorded on their surfaces recalls Julie Mehretu's abstract expressionist maps of imaginary utopias. This is perhaps the charm of Gaba's work: his ability to modulate jest, to prompt sober reflection, to draw on Africa's pressing actuality in fashioning a playful imaginary. "
Again: 'humour' and 'play' are to be sidestepped.  Would love to know why Gaba chooses 'play' as vehicle for his work. Note: try and find a way to get in touch with him – he has a Rotterdam address.