The Angel of Tilburg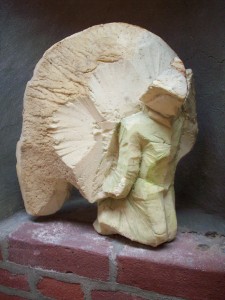 This is 'the angel of Tilburg' that I saw at De Pont last weekend. It really grabbed me – so vulnerable, so PUR, so enchanting. It lives in a niche all by itself and is, in its quiet smallness, quite beautiful.
It isn't done anymore to talk about beauty, unless one's name is Hans Georg Gadamer, who by the way argues for gameplay to take the place of religion as a common ground between artist and public. Then there is this other way to talk about beauty  and transcendence without going over the top or being accused of false nostalgia. This angel, a work of Rob Birza, proves it.