Updates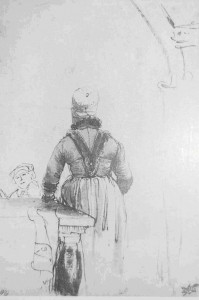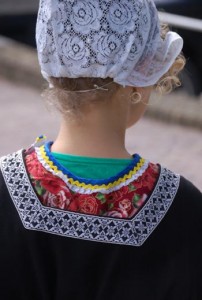 I keep looking at the world with a 'Rembrandt' eye – no pun intended.  Compare  his 'Woman in North-Holland traditional clothes' drawing with the picture of the little girl I made at Enkhuizen Open Air Museum a couple of days ago.
Drawing  is thought to be one of  Geertje Dircx, Rembrandt's  first mistress. The way Saskia, Rembrandt's wife,  left her money when she died made  Rembrand extremely unwilling to marry again, as he would then lose the income from Saskia's estate. After living with Rembrandt for a couple of years, Geertje pressed for marriage. In an attempt to get rid of her and her claims Rembrandt had her consigned to an asylum for being mentally unstable. Not his most generous act ever… When can the first 'Rembrandt's life' soap be expected? There are lots of juicy scenes, him going bankrupt and all.
By the way, the Enkhuizen museum is well worth a visit. It keeps the days alive from before the IJsselmeer (lake  IJssel) was tamed by the Afsluitdijk (literal translation: the closing-off dyke). Rembrandt knew this landscape, that is always on the edge between land and sea, very well. He drew and etched it extensively, for example in his famous 'the windmill'
As you can see, the windmill has gotten updated – the modern versions producing electricity, not flour.