Sloth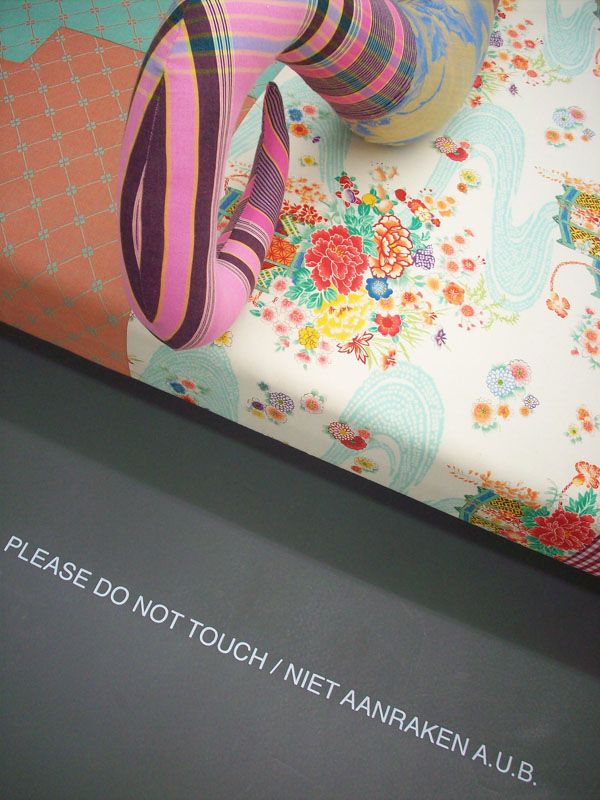 Visited Rotterdam's Witte de With Center for Contemporary Art last wednesday. The ubiquitous white cube – was drawn to it by a photostream on Flicr – more good pics of recent exhibitions in the Netherlands  to be had there.
Cosima von Bonin – is this a real name? – gave this exhibition the longest title ever: COSIMA VON BONIN'S FAR NIENTE FOR WITTE DE WITH'S SLOTH SECTION, LOOP # 01 OF THE LAZY SUSAN SERIES, A ROTATING EXHIBITION 2010 – 2011.
Had to check what a 'lazy suzan' is on wiki: A Lazy Susan is a rotating tray, usually circular, placed on top of a table to aid in moving food on a large table or countertop. Never seen one, but I get the picture.  So this lady presents us with a number of dishes, slowly revolving through Europe. Nice!
I was drawn especially by the large octopus she made – lovely fabrics, great colours, neat sewing. It has a lot of the things that I like – exept this one thing: Please Do Not Touch. Hate that – blogged about this before. Piece deserves to be in my top-10-of-un-touchable-art, though.
Like the lady's sense of humor. Exhibition is about sloth – taken now to mean laziness, it has a more complex origin. Labelled by the Church as one of the seven deadly sins, in the middle ages, it also meant 'restlessness, verbosity, unregulated curiosity'. It was not until the Renaissance that the notion of sloth became exclusively associated with inactivity. Now guess who's to be very active the next couple of months? Bingo: the lady Cosima…..