Value for money – Utrecht sept 2011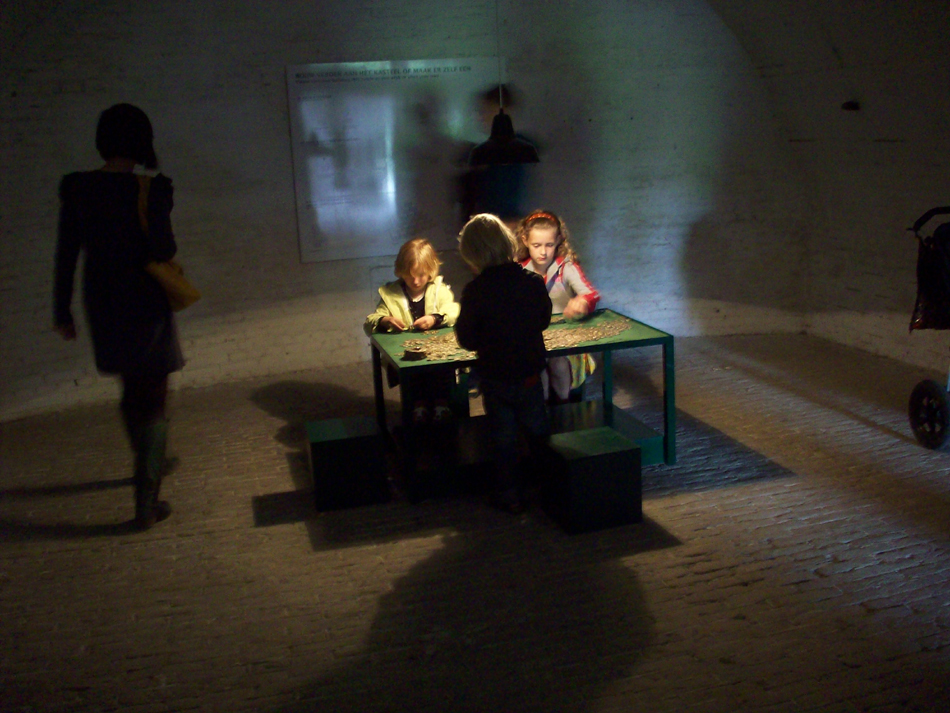 Kids and art don't match? But they do – at Kaap 2011. I was invited by Tiong Ang, who curated this sixth edition of art manifestation Kaap and made it into something special. I took the little girl and one of her friends, which usually makes for a short visit. This time I had to drag them away.
It is fun making art with and for kids, but it is far from easy. Lots of adults talk down to kids – it is vital to not commit that error. Kids are great at experimenting, and need to be taken serious in the way they make sense of the world. Lots of room for experiment at Kaap, and great beauty, too.
My girls were intrigued playing archaeologists-of-the-future, mining a giant sandbox and coming up with 20th century debris like combs, tool parts and discarded plastic toys. Naming them, catalogue-ing them and sorting their finds on shelves according to colour added to their stature as scientists in the Center for Prehistory by Frank Koolen.
The Castle by Pilvi Takala absolutely stunned. I'd met Pilvi once before at Expodium, where she showed a short movie about herself as Snowwhite trying to enter Disneland. At Kaap she made an Alladins' cave, the one that can be seen on the picture above. She set in it a game table where kids are invited to play with money, lots of money. Kids went in trance! Dragging them away was next to impossible, so I – good mother that I am – did not get to see the rest of the works at fort Ruigrok. No matter: the exhibition is open every weekend until July 10th and I will for sure return!