Play is of the essence
Posted by Everdien on 6/23/12 • Categorized as Southbank Centre,Street games,Experiment no 007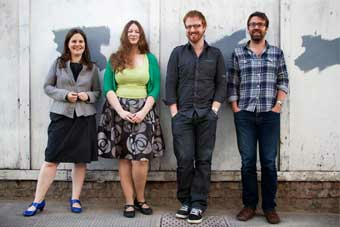 Southbank Centre has an exellent short  item on Hide and Seek – the organisation. It's to be found under the heading  'resident orchestra's & associate artists'. Which nicely underlines the problems one has when putting on games:  there just isn't a ready-made niche to fit in. I'm reproducing it here for I want to hang on to its last sentence, which states something that I believe in, too – play is of the essence.
Hide and Seek. An organisation in residence, who make social games and playful experiences
Hide and Seek are Alex Fleetwood, Margaret Robertson, Holly Gramazio and Andrew Birley (and more)
Hide and Seek founded the UK's first festival of pervasive games in London in 2007, which is now the Hide&Seek Weekender, taking place every summer on London's South Bank. They run the Sandpit, a series of events around the UK and a thriving network of artists, game designers and players, and create social games and playful experiences for clients in the commercial, public and cultural sectors.
Their values are centred around our belief that play, as a theme, a way of being, and design tool, is integral to understanding how culture will develop in the 21st century.
It is Holly that is my contact  – she's Game Designer, which is a job description that I lust after (I go by Game Maker myself, but that's just me talking). I also met Sarah Butcher who is Assistant Producer. Very professional ladies, both. Hope to do more business with them in the future.
Also worth preserving is a blogpost by Alex Fleetwood on the H&S Website. These are problems I've come across myself – a lot.
And [this] brings me to an interesting clash with historic ways of doing cultural shows… The 'vernissage' (which is what Parisians call an opening) is a very big deal, and that makes sense when you're opening a play, or a visual art show, or a film festival. It's still a heck of a job getting ready for things like that, but games are an order of magnitude different. There's not really a game in the land that opens without some long period of beta testing – and that, in the case of a show in a public space, really means testing the entire show, with the public. Which is not the same thing as a grand opening…
It's a thing we encounter time again – conflicts arising from the build-up-to-a-grand opening way of doing things, and the launch-early-launch-often way of doing things. Maybe there's a way of launching game exhibitions in beta, and then having the vernissage at the end of the opening… I don't know what people would make of that!
Tagged as: exhibition, Game Designer, hide and seek, play, playful experiences, social games, Southbank Centre, vernissage
Comments are closed.