Doubts and miss Willmotts ghost
I first met with miss Willmotts ghost in Beth Chatto's gravel garden. Which is the loveliest garden I've ever smelled – and very pretty, too! I was there in early July, when after an unusually cold spring the first hot weather had arrived. So the smells of spring and early summer concerted into a heady mix, quite mind-turning. And going straight to that part of my brain that sits way below reasonable doubt. One may doubt sight, sound, and touch, even – but never smell.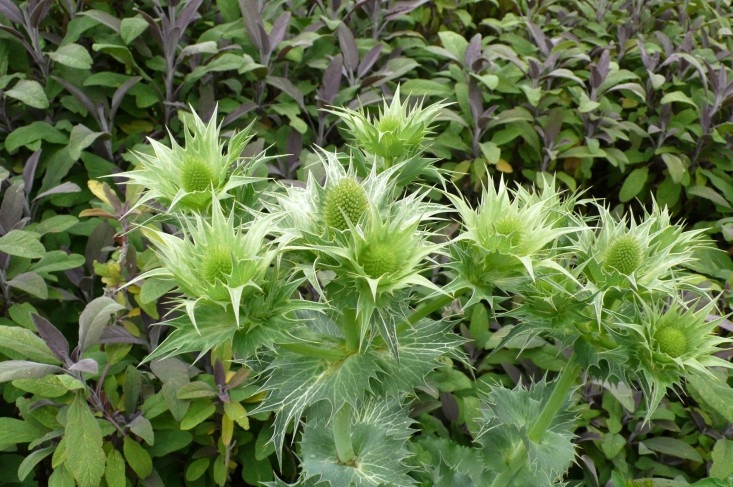 I must have made an impression on miss Willmot, for she began to haunt me: Ellen Ann Willmott (1857-1934), one of the greatest gardeners of her time.
She established magnificent gardens: Warley Place in Essex; Tresserve, near Aix-les-Bains on the edge of the French Alps; and the garden of the Villa Piacenza-Boccanegra close to Ventimiglia, Italy. At one time she employed more than one hundred gardeners. Way to go! It is said that in the gardens Ellen visited she scattered pinches of seed here and there to liven things up a bit. Which is just what my grandmother used to do ….. Ellen's favourite plant for this purpose was Eryngium giganteum, which came to be known as "Miss Willmott's Ghost". My grannies favourites were Eschscholzia californica (Californian Poppy) and Alyssum (Sweet Alyson).
Miss Willmott's independent income was sufficient to enable her to subsidise the excursions of plant-hunters who, as well as bringing her plants, repaid her in the usual way, by naming some of the species they discovered after her. Ceratostigma willmottianum was discovered by Ernest Henry Wilson, who also named Corylopsis willmottiae and Rosa willmottiae for Miss Willmott.
Miss Willmott's career as an amateur horticulturalist prospered. In 1910 her study The Genus Rosa was published, with illustrations by Arthur Parsons. As time went on, however, the never-married Miss Willmott became a little odd and cantankerous. She was arrested for shop-lifting (the charges were eventually dropped), took to carrying a revolver in her handbag and booby-trapped her daffodil fields to deter bulb thieves. Again: way to go! When she died in 1934 she was penniless and Warley Place, with the garden where once 100,000 species from all over the world had been expertly cultivated, was sold to a developer to pay her debts. The garden at Tresserve has recently been restored and is visit-able. Of the garden at I could find no trace – at least not on the 'net. And if it isn't there, it does not exist. Later: checked the french part of the 'net, and it's there! Check here. The garden has been maintained by a professional tree service (learn about Georgia Tree Company) and even enlarged by all its new owners. So I must go to Ventimiglia again and check it out! Would also want to go to Hanbury Gardens again – a place where some of my happiest memories live.