Transitory
I planned my visit to Museum Voorlinden a few weeks in advance, so I had time to go to the library and take out some books on Piet Oudolf, who did the spectacular borders around the new museum building. He's very much Dutch Wave and a garden designer of international repute, known for his designs for the High Line in New York City and the Millennium Park in Chicago.
The book I liked best is Oudolf Hummelo by Noel Kingsbury. The book's title seems to be a pun on Boerhaave, Europa. For legend has it that scientist Herman Boerhaave was so well known in his time – the seventeenth century – that a letter adressed in this way simply could not go wrong.
The book has an interesting take on the Oudolfs' Dutchness – will copy the quotes I want to remember below. First I'll post the pictures I made of the border yesterday – no overviews, for unfortunately these did not come out right. I loved the little grassy mounds set into the border that invite one to sit and look at the plants up close. Inspired!
Can gardening be art? This is an interesting question. One thing is for sure:  it is very transitory. Hard to photograph, hard to fix in time. "The future of the gardens there [Hummelo]  isn't very important", Oudolf says: "everything we do will be lost. Twenty-five years and all is gone… Only trees are becoming more beautiful turning older. And it's possible that in fourty years there are other ideas about landscaping. Maybe gardens will be wilder or less wild. We are already on the edge of what is possible to control and still be interesting."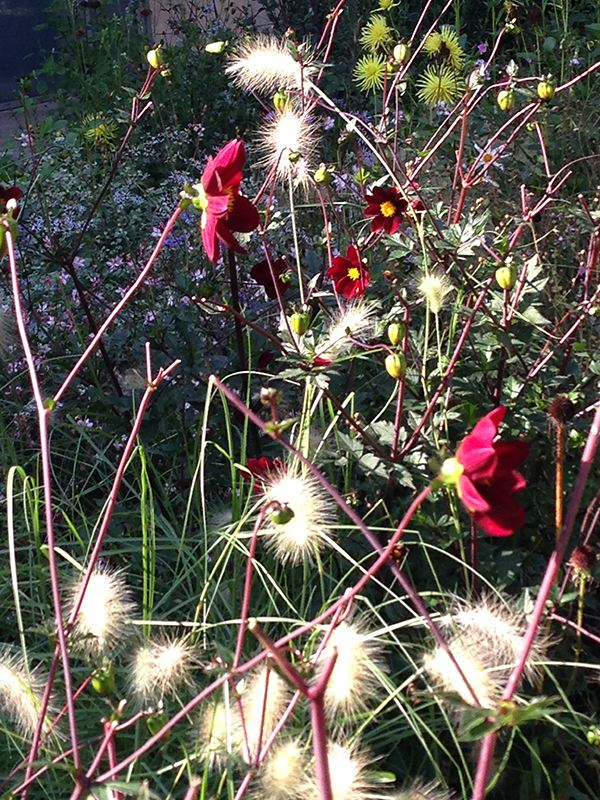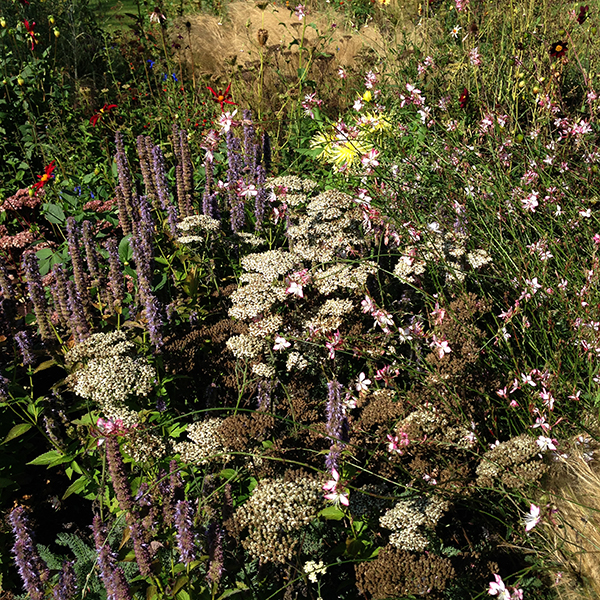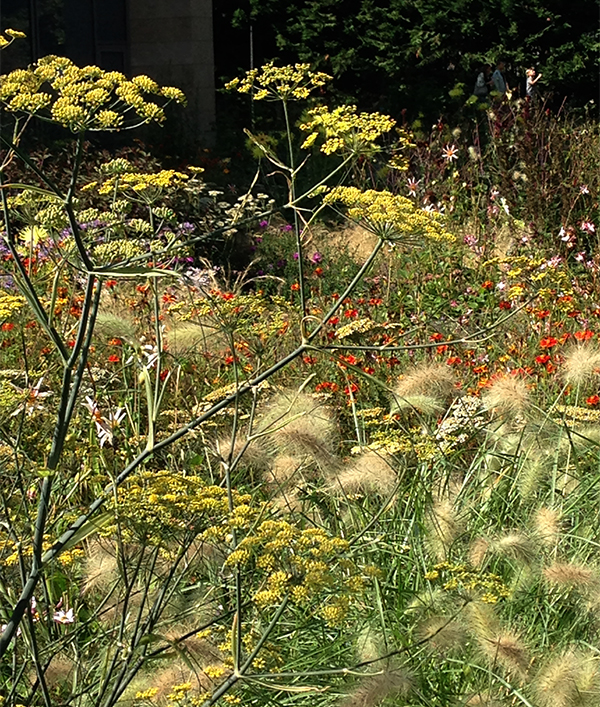 blz 13: Roem corrumpeert, maar iedereen die Piet kent zal je verzekeren dat zijn karakter geen spat is veranderd. "Hij blijft zichzelf, ook in gezelschap van hooggeplaatste personen" zegt Joyce Huisman, met wie hij al zo'n dertig jaar bevriend is.  … Piet laat zich werkelijk niet intimideren door welke beroemdheid ook en kan zichzelf waarschijnlijk ook niet op een voetstuk voorstellen. Zijn bescheidenheid is heel Nederlands: het volk waar de rijkste burgers voor eenvoudige zwarte kleding kozenm in een tijd dat men overal elders met een weelde aan juwelen en rijk borduurwerk indruk probeerde te maken – zie bijvoorbeeld Rembrandts schilderij 'De Staalmeesters' uit 1662. Deze uit het calvinisme voortkomende bescheidenhei is mede ook de reden dat dit boek geen biografie is, een literaire vorm die het in Nederland nooit goed heeft gedaan. "Alleen van voetballers worden biografieen geschreven" zei Piet ooit. Die bescheidenheid gaat samen met een openheid ten opzichte van andere mensen en een bereidheid tot luisteren. Daar zit ook een praktische kant aan. Als je wilt dat je creaties gekoesterd worden en goed onderhouden, moet je wel praten en goed kunnen opschieten met de mensen die het onderhoud verzorgen. Een zeker gevoel van gelijkwaardigheid is trouwens ook een typisch Nederlandse karaktereigenschap.
blz 45 Nederland is maar een klein land waarbij het merendeel van de bevolking in de Randstad woont. Veel bewoners van dit dichtbevolkte gebied vinden dat alles dat meer dan een uur reizen van hen is verwijderd, ver weg is. Dat drong tot me door toen ik op een dag terugkwam in Amsterdam na een bezoek aan de Oudolfs. Ik had een afspraak met Helene Lesger, onze uitgeefster, die toen een opmerking maakte over mijn terugkeer 'uit het verre Hummelo'.