Archaic
My destination was The Hague yesterday – the city where our government governs us from. I had time for a walk from The Hague Central Station to the Gemeentemuseum, where a lot of good Mondriaans are in the permanent collection. We went to see Alice Neel – an unknown quantity for me.
While walking I was privileged to see my government in action: the new ambassador of Senegal coming to meet the Dutch king at Paleis Noordeinde. The ambassador arrived by carriage and was received in a changing-of-the-guards-like ceremony – I didn't even know we did this type of thing. It looks very archaic  – it is archaic. Reminded me of one of my favourite artworks: The Guards by Francis Alys.
We dKvhT people met with Benno Tempel who is director of the Gemeentemuseum. Visionary talk about how a museum is shaped by its collection and the city where it finds itself located. The Gemeentemuseum is much more out of the way of casual visitors than for example the Van Gogh, and relies on its special exhibitions to generate interest and  income. They do 40 specials per year – the ones on applied art included – some are their own work, some co-productions, some are bought in. He called the Gemeentemuseum 'dit huis' i.e. 'this house' – visibly proud of the building, the collection and the people that work with him.
Another walk took me to the premises of Fonds 1818, a foundation that is a dedicated sponsor for community projects in the The Hague area. Art projects included – as long as they have education value, or bring people together. Mr Boudewijn de Blij gave a rousing talk about the ins and outs of fundraising.  Seen from the perspective of the providers of funds, of course. 'Fundraising is hard work', he said, and having done a spot of fundraising myself, I totally buy this.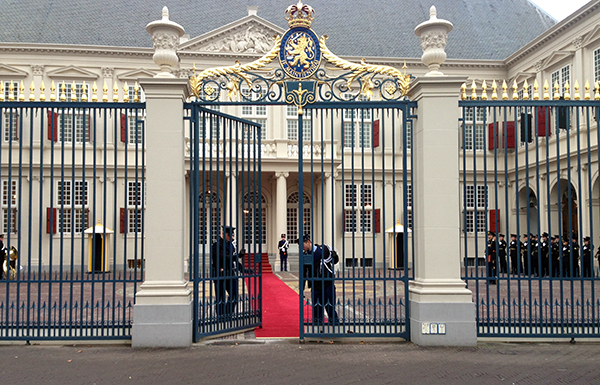 Noted another detail on my way – there is a statue of Nelson Mandela a few streets from the Gemeentemuseum – and someone had put flowers at his feet. Nice!