Unexpected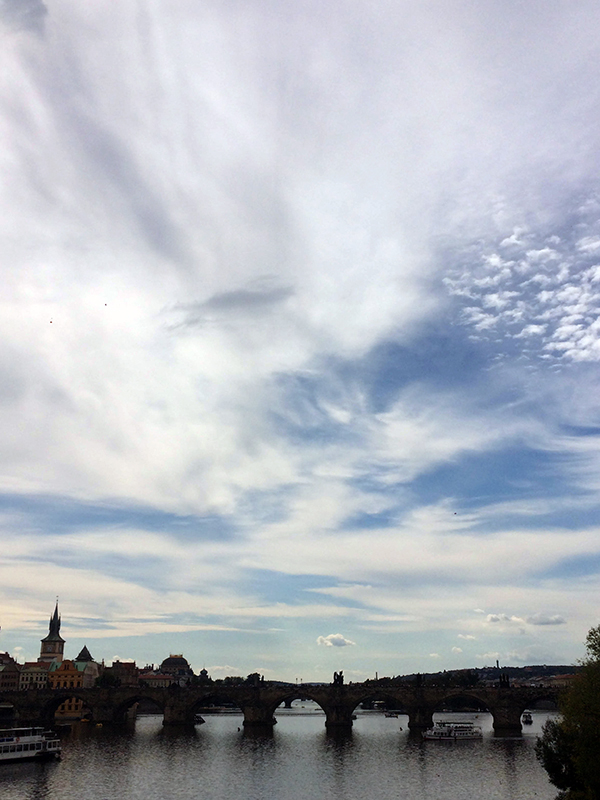 A post from the lovely city of Prague today – I'm here because husband has a conference and I was allowed to tag along. Spent the loveliest day yesterday … it is great having seen all the sights on a previous occasion. It frees one up to just go out and wander … Of course I could have skipped the sight-seeing on the first visit, but somehow this isn't something one does.
Anyway, we went – by bike! – to Mass at St Vitus Cathedral, and had the unexpected bonus of a performance by the Men's Choir of the Essen Police Force – they sang beautifully during and after mass. Sometimes the unexpected does happen! Saenredam would have loved painting this cathedral.
Afterwards we discovered Strelecky Island – Shooters Island, where the archers used to practice. It had a an old caravan turned coffeeshop, and daybeds to lie on, and a very quiet vibe. Stayed al afternoon, read books, talked with some people and then took our small bikes back home again. Found a beautiful circle in iron on one of the streest in district 6, and photographed a number of unique male/female signs on wc doors – note: must count the collection, if 1000 or over it's time for a book or exhibition.