About artists writing
Posted by Everdien on 11/24/09 • Categorized as New sparks,Critical studies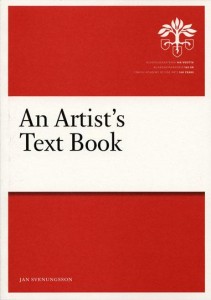 Last week we discussed with Henk Slager  'An Artist's Text Book'  pages 7 – 45, giving an introduction into the artist as a text writer. The book is written in 2007 by Jan Svenungsson of the Finnish Academy of Fine Arts. 
This week we took artist texts  from the artists participating in the Shanghai Bienale in 2008  that Henk curated and tried to fit them into the categories Jan Svenungsson proposes. Interesting, these texts generate a lot of alternative ideas of how to go about our writing. 
We added a couple of categories of our own that I want to record, so I will list all categories here. Jan's are 1 -5, the others we added during our discussions:
1. Expressive me-centered storytelling in the first person (examples: Man Ray's 'Self Portrait', Louise Bourgeois' text); 
2. Methodical revelation of (pholosophical) truths (example: Matisse's 'Notes of a painter');
3. Systematic revelation of technical and pedagogical truths (example: Paul Klee, 'Pedagogical Sketchbook');
4. Literary experimentation with content in the open and in disguise (example: Frances Starks' 'In search of the miraculous' about Bas Jan Ader);
5. Well-referenced academic writing with further ambitions (example: Mike Kelley's  'Playing with dead things: on the uncanny');
6. Artistic research essay (example: Ursula Biemann's 'Sahara Chronicle');
7. Artistic dialog/interview (example: Hito Steyerl and Jon Solomon 'Mission Imbpossible');
8. Artistic weblog/diary (example: this blog);
9. Artistic travel journal (variation of no.3, example: Lonnie van Brummelen and Siebren de Haan, 'The movie camera as exhibition object');
10. Evaluative, managerial text (example: Hans Weenink's essay).
Tagged as: artistic research, book, exhibition, Fine Arts, Hans Weenink, Jan Svenungsson, Louise Bourgeois, Matisse Notes, Mike Kelley Playing, Paul Klee, research, revelation, Shanghai Bienale, weblog
Comments are closed.