Didn't get a 'yes' – yet. Working on the Domkerk proposal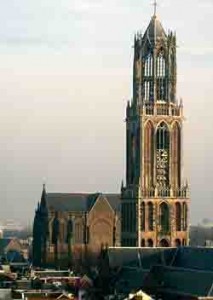 So – we didn't get it – yet. There was a distinct miscommunication: the Domkerk people expected a finished proposal, where we worked out and presented them with a first global idea.  We showed  them the stage we would like to set, they expected the complete play and the actors and their costumes.
So, last week wasn't fun. Not for us, not for them, always difficult to be the bearer of bad news. The good news is: we have another chance. The proposal Lisa and I made was the only one that – in principle – they saw as having potential, if we work it out further.  Not for this year, but for next. That was a real disappointment!
Now that we're over grumbling about it (happened a week ago), today the group met again and decided to give it another go. We've made a work schedule and divided tasks; we will be building a small set and give an artist's impression of what visuals we are going to employ. Then we invite Elias, our teacher, to feedback us, then we invite the church people to see if we can persuade them to have us next year.  If not, we've decided our concept is too good to waste, so we will pitch it to the Bijenkorf (chic general store) or to the NS for display at Utrecht Central Station. The Dom church is not the only venue in town …….