Experiment 003/2009: trial run at IBB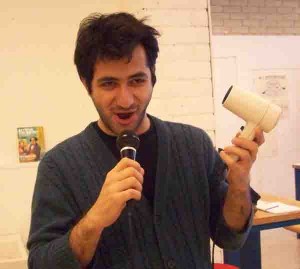 Did a trial run with the exp 003 environment at IBB today. Entertaining!  Pic is of Farid having fun. Marina suggested that it was a piece of social commentary: most of people's  talking being a lot of hot air. Nice idea!
Had my first tutorial with Tiang, very encouraging. Even though I always feel I express my ideas badly. Needs practice – of this I will get a lot this year. Tiang's comment on the exp 003 environment was that it was too 'funny' – not something one would come back to. I must admit – when there is no one 'playing' it is not much to look at. And adults don't come back for a second try, though kids do.