Experiment no 003/2010: trial run with kids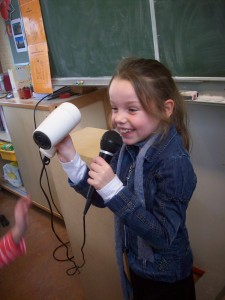 Last tuesday I was invited at the little girl's school to talk about what it is like to be an artist. Had great fun – kids are so curious and open-minded. Talked about studying at HKU and about what the life of an aspiring artist is like. And about playing, and why grownups don't play any more.  According to the kids, grownups just talk. And why? Because they have no time to play, or feel silly being seen playing, or have forgotten how …..
Then I had the kids play with the 'gust of wind'  installation, which they loved.