Playing with dolls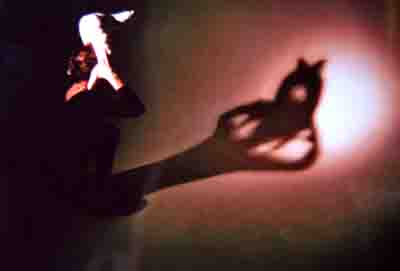 One of the conclusions of  Experiment no 001/2008 Playthings  was that it is very difficult to get people to touch works of art in a gallery setting. So I decided to try another approach
I made a number of figures that were doll-like but abstract, white, made of felt, filled with soft polyester stuffing and very soft to the touch. These dolls  I later on called 'Pristines"  because they were born so very white and pure. I made them white to connect to the idea of having a white canvas, to be a starting point of something, to be untouched. The 'Pristientjes'  were not to meant to be white and pure for long though.  I handed a number of them out to fellow students working in the same building. I selected  these women because they had been in my studio, seen my dolls and looked like promising 'players' to me.  Note: be more specific about who is to participate and how to approach them.  I asked them to sort of play around with the Pristines, left it very open in what way 'play' could be constructed.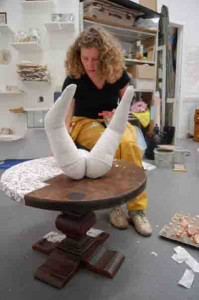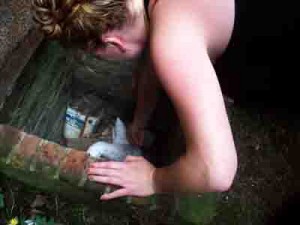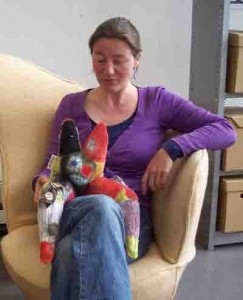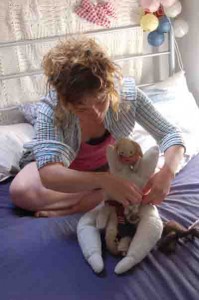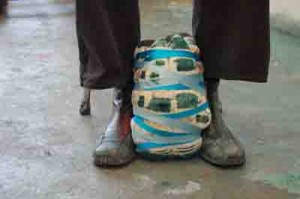 In the weeks that followed I photographed and interviewed the participants. It was a fun thing to do, and I got to know the participants much better, understand their work more too.  What I especially noticed was that they all fitted their 'pristientje' into their own way of working. The painters painted on her, the sculptured used her mass, etc etc. So they did what they already did, no surprises. What I really really liked about the whole exercise is capturing the  participants 'creative moment' on film, the moment where all awareness of  surroundings  is gone and the artists' only focus is on this thing they are engaged with. Super to share these moments with them!
When I started preparing for the end-of-year diddy-do, I ran into problems. Problems that had everything to do with representation – how to present this project and its results? I never gave thought to that when starting up the project, which I should have, because it turned out to be so difficult. The way you plan to present something probably decides on how you document, and may even influence the (form of) the experiment itself. Note: in future never never start a project without making some decisions about its presentation. When doing the end-of-year evaluation I used boxes with the documentation inside and a foto on the outside, and one doll on top to attract attention. The idea was that people would get curious, take a box and rummage around in it.  This totally did not work with the teachers that came in and evaluated my work: they hardly gave this setup a second glance. Maybe just because of end-of-a-long-day for them,  but even so.  Note: have not yet been able to generate enough curiosity to get people to participate in the work. I also need to think more about how the individual results will join up in the end to form one work.