Dolls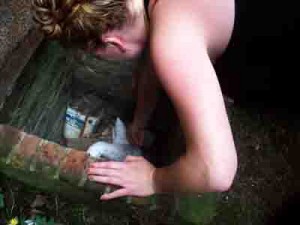 One of the unexpected rewards of writing a weblog is that people that I have met or worked with find it and get back in touch. The following  is a message from Zeynep, a young greek artist that fell in love with one of the dolls I made two years ago:
Dear Everdien,
Don't know if you can recall me, but i was at maHKU last year as well. You were participating in my friend, Christina's performance, and you also gave her one of your wonderful "doll"s- not quiet sure what to call- and we made some photos together with her? Anyhow, I just came across with you and your blog the other day..it was wonderful to go through your posts, remembering the last year..Congratulations for your graduation! Best of luck with everything!
P.S. I slept with that "doll" for 4 months, then gave it to Christina before leaving Holland..It was wonderful, i still remember the feeling of holding it in my arms!