Richard Wentworth: Outstanding Unnatural Beauty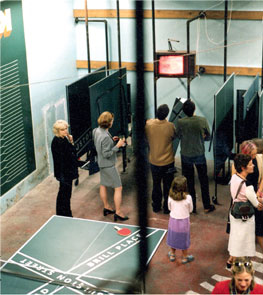 Wiki:
Richard Wentworth has lived for many years in the Kings Cross area of London and in 2002 he released the project An Area of Outstanding Unnatural Beauty in which for three months he took over one of the plumbing companies in the area converting it into a base for visitors to explore and engage with the area.
Quote from 'from studion to Situation', chapter In Conversation: James Lingwood and Richard Wentworth:
Sculptor, photographer and 'urban explorer', Richard Wentworth has lived in King's Cross for some 25 years. Wentworth's work is an ongoing conversation with his native habitat. At a moment of huge upheaval in this particular transient part of London, Wentworth temporarily inhabited a vacated General Plumbing Supplies store overlooking the railway tracks and the building sites of King's Cross station in autumn 2002. Inside, he installed maps and plans and films, ping-pong tables and a periscope in an evolving excavation of the fugitive nature of the inner city. A wide-ranging interaction programme, fed into and out of Wentworth's Kings Cross HQ. An Area of Outstanding Unnatural Beauty was commissioned by Artangel and here the artist looks back on the genesis of the project with Co-Director of Artangel, James Lingwood.
Page 102 James Lingwood: "I think one of the things that Richard does in his work is engage with completely different senses of time. The French historian Fernand Braudel talks about three different aspects of time: La Longe Duree, the very slow glacial speed of geological time, historical time, the speed of the industrial revolution, and human time, which is the time that it takes you to walk down the street".
Page 103 Richard Wentworth: " And by that time, through a process of poring over A-Z books etc, we had some quite in-depth discussions about maps and map rooms . Which of course I'd used quite a lot in the exhibition Thinking Aloud. I was interested in what happens in your head when you look at a plan ofr map or diagram". James Lingwood: We began to see that if we were going to be showing maps, it would have to have a direct relationship to the outside.
Richard Wentworth in here and now : "People must be arriving in London at about the rate at which others depart. Anybody who wants to trace where they have lived, and why, builds up a powerful narrative as if to suggest that decisiveness has outwitted the arbitrary and the contingent. We want to keep happenstance in its place. People become fervent, missionary, even conservative. They emphasize their sense of belonging, always hilariously local and proprietorial, not unlike the nesting of birds. It is as if being surrounded by our "belongings," we can ward off the wider complexity of this metropolis."