Francis Alÿs and the city of London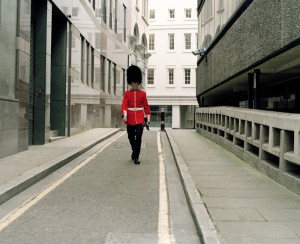 "A journey implies a destination, so many miles to be consumed, while a walk is its own measure, complete at every point along the way,"  Francis Alÿs
Over the past 5 years, Alÿs has been walking the streets of London  as part of a project commissioned by Artangel. 
Quote from their site: "Francis Alÿs walks a lot. He walks the streets of the world's largest metropolis, Mexico City, where he has made his home for almost twenty years. He has also walked the streets of Copenhagen, Sao Paulo, Jerusalem and London. Observing and intervening in this huge open-air studio, Alÿs maps the city, staging elusive scenarios and making poetic films and animations. His work can be as monumental as moving an immense sand dune (a project he undertook with five hundred people in Lima, Peru), as ephemeral as sending a postcard or as subtly humorous as having a peacock take Alÿs' place at an important gathering of his peers.
Over a span of five years, Alÿs walked the streets of London, evolving Seven Walks for Artangel, a project which delved into the everyday rituals and habits of the metropolis. The walks were enacted in different parts of the city – Hyde Park, the City of London, the National Portrait Gallery, the streets close to Regents Park. Three of the walks – Guards, The Nightwatch and Railings – were made with Alÿs's long-term collaborator Rafael Ortega. The ensuing films, videos, paintings and drawings were presented together in Alÿs's first major public presentation in Britain."
Francis Alys in conversation with James Lingwood of Artangel: Now if I go back to the chronology of how the projects in London developed, the simple act of touching the railings, of feeling the architecture with the drumstick acting as a kind of catalyst, was a way of making contact, of connecting to the physicality of the place,….As the drumming piece developed, a number of variations happened. The first moment was just walking with a stick bouncing on the architecture, there was no interaction, the architecture was entirely dictating the sound patterns, but the melody was generated by the motion of the walker.