The Former West Conference 5/11/09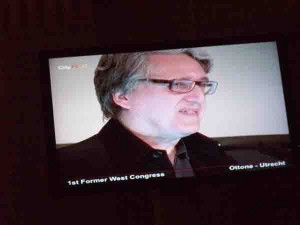 Attended the first day of the "Former West' conference yesterday. It is organised by BAK,  and lots of great names from the artworld are there: Sarat Maharaj, Boris Groys, Catharine David, Simon Sheikh, Claire Bishop, Douglas Gordon, Okwui Enwezor to name but a few.
Theme of the conference  is 'the former West': if  'the former East' is a given in current cultural and political discussions, by definition there is also 'a former West', in the art world as well as in the world at large. This theme is discussed and looked at from all sides (artistic, political, economical, psychological, personal, ..) and linked to the given that the 'art world' is no longer confined to 'the West' (Europe, US, Japan) but as from '89 has expanded considerably. Sarat Maharaj named The Havana Bienale, 'The Other Story' and "Magiciens the la Terre' all dating  from  '89 – the year the Berlin Wall fell – as points marking this development. He also drew a map of the southern hemisphere, with Dubai, Mumbai, Guangzhu, Bankok, Durban (to name a few) as nucleuses.  Pretty soon,  the southern hemisphere may take the lead. I could suddenly see  Europe becoming  a sort of  open-air museum where lots of chinese and indian tourists come to see what art was like in the good old days of the former West. Personally, I think that the art world will cling to the economic center of gravity, and it's still an open question if this center of gravity will move away from New York – London at all.
Pictures show Boris Groys on the tv screen that's on the upper balcony) and a group of MaHKU students (also on the upper balcony). We discussed Groys' article "Art in the age of biopolitics' in class, which made it extra interesting to see him and listen to him the other day.