Yan's visit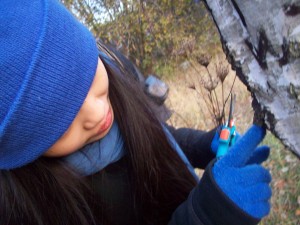 This is a picture of fellow student Yan studying nature at Tractie. Yan is from Shanghai,  she's joined us at MaHKU to study Nature within herself. So I thought it'd be a good idea to introduce her to Tractie nature and see what she made of that.
We had a look-see on dec 16th, Yan walked around with me in tow, she's interested in shapes and textures of plants, as you can see on the picture to the left. She asked many questions about all kinds of natural processes: how plants grow back after winter, how trees have a sap stream, etc. You can listen to our conversation, as I taped it and will include the sound file in this post – as soon as I have figured out how …
Well, I tried – have to edit the file some because now it's way to big. To do on some other day, perhaps. What I do have is a little map of the route we walked, so you can see which parts of Tractie were of particular interest to her: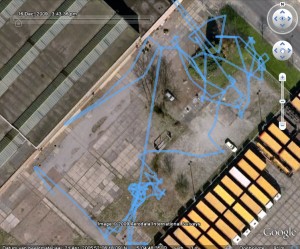 I have invited other people to come have a look at Tractie: a hunter, a car mechanic, a violin player. Am trying to get a chinese astrologer as well, and will have to contact a person from nature watch and a former employee, to be as all-round as possible. It will be interesting to see how they react to Tractie out-of-doors, what filter they apply to reality.