Seeds of community sown by Aldo van Eyck
Aldo van Eyck (1918-1999) is the famous architect that designed the 'Burgerweeshuis' in Amsterdam. Less well known, but very much part of his oeuvre, are the playgrounds he designed between 1947 and 1978 for the city of Amsterdam. They illustrate his vision on the way urban space is to be used, creating zones for play in marginal areas, integrating existing elements like walls and window patterns. These playgrounds became, by force of number and clarity of design, important elements in the urban fabric.
Almost everyone who – like me – grew up in the Netherlands during the '50s, '60s and '70s will be teleported back to those times by the sight of the simple tumbling bars, chutes and hemispheric jungle gyms van Eyck designed. He installed more than 700 playgrounds in Amsterdam alone, and outside Amsterdam too, almost every playground had one of his tumbling bars.
The Stedelijk Museum Amsterdam did an exhibition about van Eyck's playgrounds in 2002, check their archive for 2002 here. Also on display were works by Constant Nieuwenhuys, Karel Appel and Jean Dubuffet. Quote from the SM site: "Displayed inside and outside the museum were pieces of playground equipment designed by Van Eyck. Despite their beautiful simplicity, they look lost in the museum. A better option, of course, is to get on a bike and cycle to those playgrounds that have (partly) survived. The exhibition catalogue lists all Van Eyck's playgrounds chronologically and their current state (reasonable condition, demolished, replaced by new playground). And those who want to experience how the network of playgrounds was distributed across the city centre and surrounds can follow the 'psychogeographic cycle tour of Amsterdam playgrounds by Aldo van Eyck' in the latest issue of Archis magazine. The map indicates 40 playgrounds within the city's ring road. Some are long gone, but that's not important. For the site is what matters. 'They are points where the seeds of community were sewn, where the city was not to be viewed or consumed but experienced.'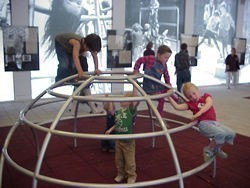 Aldo van Eyck was 28 when he joined the Department of City Development at Amsterdam Public Works in 1947. After working on city expansions for a short time, he was asked to design a playground for Bertelmanplein. At the time, there were just a few private playgrounds in Amsterdam run by trusts and children had to be members to play there. Residential areas offered hardly any play facilities for children. It was Jakoba Mulder, head of the design group where Aldo van Eyck worked, who came up with the idea of providing a small public playground in every neighbourhood of Amsterdam.
In collaboration with the neighbourhoods, the Site Preparation Service of the Department of City Development drew up the programme for the playgrounds and decided where they would be built. Because the department wanted to give every neighbourhood its own playground, they often turned vacant lots in the city centre into temporary play areas. Hemmed in by old walls and ramshackle buildings, these are the best known of the playgrounds. Van Eyck worked for the department until 1951 before setting up his own office, but he continued to design playgrounds for the municipality. Van Eyck himself designed the playground equipment, including the tumbling bars, chutes and hemispheric jungle gyms, and his children tested them.