Violin play at Tractie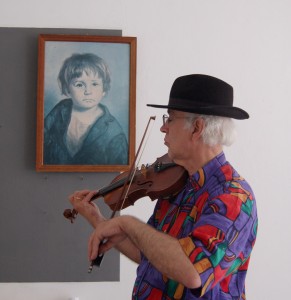 The day before yesterday I i invited a violinist I met in my home town to come and play at Tractie. His name is Joep, and he plays the violin while walking around. Fills the places he walks through with music, which is envy-making. Another type of play altogether  – I was curious to see how he would interact with the environment I created.
His playing the violin in my studio was beautiful – it has quite good acoustics, we found. His interaction with the screens was minimal, though.  Well, can't win them all.
He was much more interested in the paintings on the walls, used them as sources of inspiration for what to play. He really came into his own when meeting the students at work in the other studio's.  Serenaded a couple of pretty girls, which was nice.  Thanks a lot Joep, you did liven up a dull afternoon!