Essays on algorithmic culture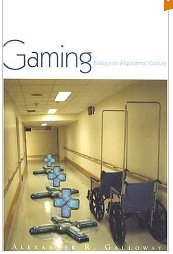 Have updated my 'books' page just now – done a lot of reading in the past few months. Some good,  some great, some boring.
One of the books I can really recommend is Gaming – essays on algorithmic culture by Alexander Galloway. Exellent essays, learned a lot. Galloway  deals with the video game as a cultural form that demands a new interpretative framework.  Then he develops this framework, using examples from film critique for instance.  He links the philosophers I have been wrestling with to the world of philosophy, and so makes  me cover new ground.
A quote from page 100: "Flexibility is one of the core political principles of informatic control, described both by Deleuze in hes theorization of  'the control society' and bu computer scientists like Crocker'.
Another quote, page 4: ".. there has emerged in recent years a whole new medium, computers and in particular video games, whose foundation is not in looking and reading butr in the instigation of material change through action. And the most curious part of the upheaval is, to borrow what Critical Art Ensemble said once about hackers, that the most important cultural workers today are children."