Not Net at Berlinische Galerie
The Berlinische Galerie promised an overview of modern art in Germany – and lived up to its promise. First floor walks you through painting and sculpture in Germany as from the 1900 and a little earlier. All major 'isms present: impressionism, pointillism, cubism, and so on, german variety. Neatly catalogued and very boring. There was a Kokoschka that leapt out of its frame, though.
Ground floor hosted photographs – not very memorable ones – and a number of attempts to make art based on internet technology. Two of the three projects were inaccessible because of computer failure – too bad, would have liked to see them. Why don't the museum people make sure things work? Third was accessible, but not very interesting: an embellishment of Google Maps. So far, no points scored for the new(est) technology. It should come into its own though – lots of possibilities.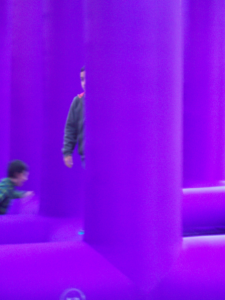 Best part of the museum was situated outside: an inflatable structure like a mathematical drawing of cubes, a vast thing that kids just loved playing on. Don't know if it was art – but it was fun! There was also a text-based work spelled out on the pavement just outside. Tempted to use my crayons on the letters to send my own message – but had neither the crayons nor the nerve.