Expressing emotion vs spreading doubt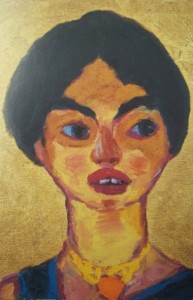 Went to the Nolde Stiftung Dependance Berlin this morning to have a look at the 'Emil Nolde Paints Woman' exhibition that they have on this month.  I wanted to see how he expresses emotion using the female form. Took me a little while to find the right address, but sunny Berlin is not a bad place to get lost in.
Anyway, once I foundit  I went in and admired the collection. Nolde's work is easy on the eye – the modern eye, that is – and references imagery that is very accessible: woman as  the Mother, the Goddess, the Temptress, the  Red-Haired Woman. Male desires projected on the female form, a theme underlined by the curators decision of hanging Nolde's pictures side by side with a Picasso print from the  Suite Vollard and a Marilyn by Andy Warhol.
Expressionist artists sought to express the meaning of emotional experience rather than physical reality. Which is an interesting endeavour, but one that I am a bit wary of also. I've never had a high opinion of emotions, either as point of departure or of destination.
This I could credit to my training as an engineer – on the whole, us engineers are an incredulous lot, more interested in fact than feeling, having more sense than sensibility. On the other hand, I no longer hold with the 'if it isn't measurable, it does not exist' assumption underlying my days at Delft University. What I – with hindsight – value most about my time there is the ability to give doubt a place in one's' thinking. To be able to actively appreciate it, even.
It is very much an Enlightenment thing, this desire to keep questioning. The most liberating principle that I know of was formulated by a guy named Popper, who enlarged on Enlightenment ideas: all knowledge is accepted to be right until proven wrong. And we are to bust our guts trying to disprove, not prove. The man encouraged me to always to ask the following question: what if there is a better explanation?
So in my work I decided to go for the 'what if's', for what Carsten Holler so elegantly formulated as 'spreading doubt'. What I am into is making people doubt perception. This isn't an issue in Nolde's art. So what did I learn from Nolde? I was most impressed by the sheer volume of his work, so: build up a consistent volume of work myself. Also by his self-assuredness, so: don't give in to self-doubt. He pushed the limits in his day, so: go my own way.