Wishing Well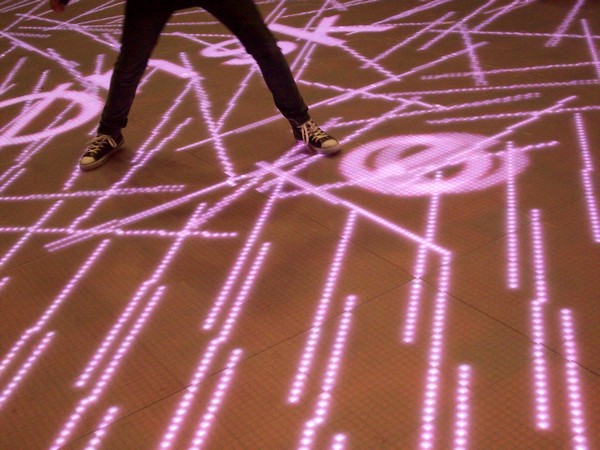 I was on my way home when I met with the coolest game….. way too early in the morning, for such are the joys of travelling.
At a very busy spot at Berlin Hauptbahnhof a LED floor interacted real time with people's movements, creating patterns that invited play. I was stunned by its simpleness and fun, and awed by the technology behind it. Check it out at the makers website: Phase7. Moving arts plus technology are their forte.
First impression was that the floor was pressure-operated. Not so: it works on infrared tracking plus a hell of a fast program to light up the LEDS in patterns around the infrared source: humans. This made for playful interaction between human and system, interesting to watch who'd play and who would not. Again: kids the best players.
Looking around, I  noticed a sound box. Closer inspection revealed sound patterns to go with the light patterns – but the trains made so much noise that this feature didn't shine.
Later: Checked the thing just now on the 'net. The floor was designed as an interactive installation for the European Capital of Culture 2008: Stavanger. Called  Önskelbronn, it references a wishing well, and in its original incarnation it was arrounded by a stone garden.
Quote:  "The atmosphere gives a chance to concentrate and heighten the sense of perception for the entrance into the virtual environment. Visitors enter a place where they can focus on themselves and on their wishes and dreams….  The passengers themselves became the performance. Their moving paths were followed, retracing their movements as reprocessed projections directly on the floor. Floating images and keywords inspired the user to start reflecting on their own wishes. Sound was triggered by the movement of interacting visitors. As soon as they stepped onto the LED platform, they initialise vibrating loop patterns, which were imbedded in a specially created composition b y a contemporary composer."