Wind goes Amsterdam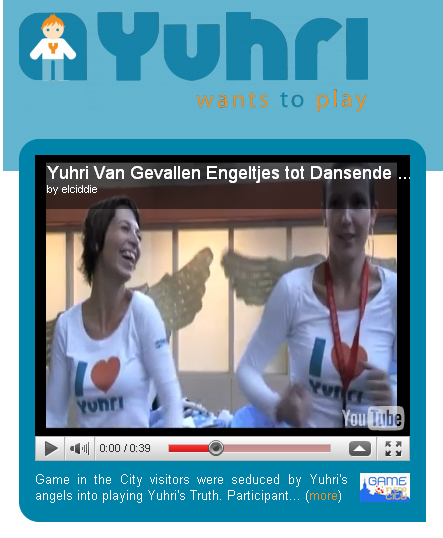 Had lunch yesterday with Simone Bommelje, creative motor behind startup Yuhri. Screenshot  shows her (left) as a Little Fallen Angel on YouTube.
We share a fascination: how to get adults in a playful mood? Had a lovely time comparing notes.  Yuhri aims to introduce games where people wait: at railway stations, hospitals, meetings. Sounds familiar? "Yuhri offers – with help from an international creative network – large artistic objects or small gadgets that provide those waiting with a memorable experience".
We talked about how to use my games in a Yuhri context. And the good thing is: we'll be doing a tryout next week! Simone does business at a conference hosted by the municipality of Amsterdam,  and we'll place  my  Wind game there.  I love the idea of presenting my games in a not-gallery and not-arty space!