Burn, rape and pillage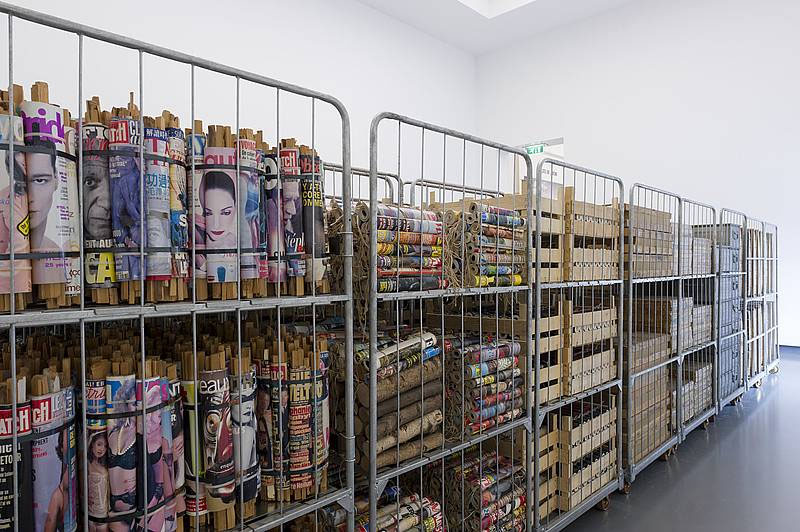 Went to the Van Abbe museum in Eindhoven a couple of days ago. I visited it before, and got lost in it before. If the purpose was to  build a labyrinth, the architect did a really good job!  Even with a lot of help from the museum staff I could  make head nor tails of the routing.
Went because their programme, Play Van Abbe, intrigues me. Missed the first and second parts – too busy graduating from MaHKU, but was in time for the third part, which highlights the act of collecting. "What does it mean to collect and keep works of art? What kind of world is perceived when viewing a collection? Who decides and why? "
Van Abbe certainly had a lot of collections and a lot of ways to present them. Most absolutely boring – which was too bad. Coupled with the desorientation I felt it made for a sorry visit. Fortunately, there is always something there. This time the something was 'Archive: wheeled archive of archives of completed archives, 1974 – 2010' by Belgian artist Denmark, nom de plume of Marc Robbroeckx who was born in Antwerp in 1950.
I liked that work a lot – probably since his work made a point of making stuff less accessible. He burned, friezed, screwed, sanded, glued and bound together his paper, thus freeing me from having to go look for a needle in his haystack at all, which was liberating. He presented his mal-treated paper archives in a voluminous and attractive way – chapeau! First two pics below are details of the one above.
Now it is a fact known to my intimi that I can gaze at market stalls selling sewing thread and zippers for ages – providing they have their collection on colour-coordinated display. Have spent one of the happier afternoons of my life in a british haberdashery shop, browsing through their isles and photographing away! Check the pictures below, they were taken at this happy place. Went back there a year later, but they were gone….. I still have the pics to prove that this little heaven really existed, check the last three pics below.
Later: found a better word than 'boring' – how about 'introverted'?