What If history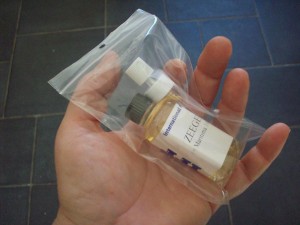 Sea smell in a bottle – my contact Jan at IFF mailed it to me last week. Haven't had time  to test it yet – will spend more time managing projects than doing art this week. Not that I mind –  and also: the family has to eat, and buy new shoes, too.
Still have to come up with a name and short description for this particular part of Experiment no 007 –  Learned from Alÿs that the core idea of a project should fit on a picture postcard – took one of his home as an example, because I think it is a good idea.
This idea I have isn't really a game – though I will be playing with the senses – it is a bit of 'what if' history. The question being: what if us Dutch would not defend our coastline with such tenacity? I'm in correspondence with Rijkswaterstaat – the agency that does our sea-defence – to find out where the Dutch coastline would be if we'd not been building dykes for ages. Heard from another source that city of Amersfoort would be a beach resort in that case: Amersfoort aan zee. Amersfoort is about 80 km's inland – so  Amsterdam, Rotterdam, Schiphol,  Utrecht even would be below the waves. Interesting.