Can't win, can I?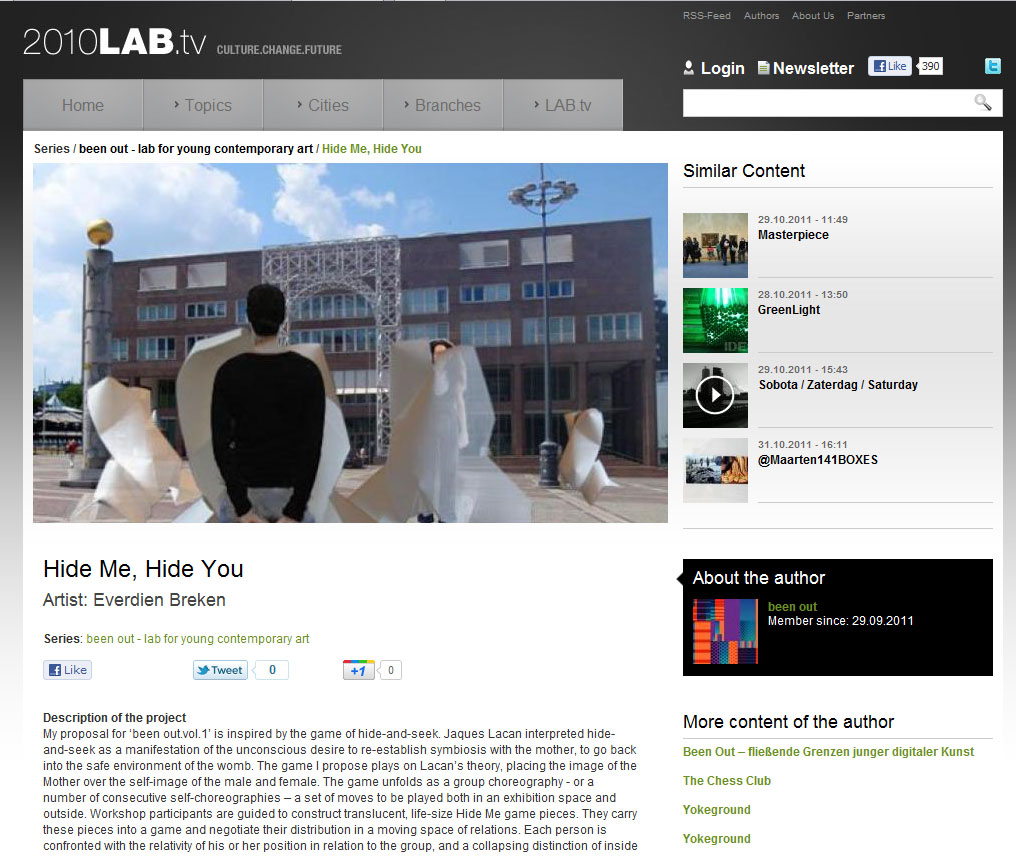 Hey – I'm on the website of 2010 LAB TV – with all the other entries for Been Out. A lot of entries, check below. Hope to make the 'selected'  category – and nervous about that option, too. Can't win, can I? Why does being nervous never stop? Nerves should degenerate with age …
More than 200 proposals from all over the world: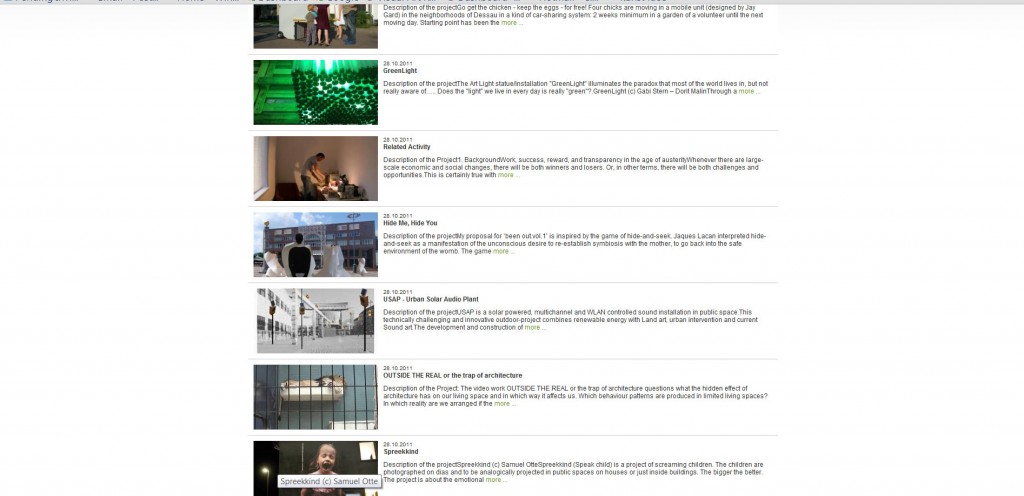 This message was published by the organisers of Been Out:
The vacant second floor of Ständige Vertretung, home of the creative network Heimatdesign, becomes an exhibition laboratory: Where once the former regulatory authority did its paperwork, from 3-10 December 2011 five international young artists at the beginning of their career deal with the relationship of art and urban, public spaces. They work on questions that were published in a Europe-wide call for projects this autumn.
Although being initiated as a european project with a focus on North Rhine-Westphalia, the Netherlands and Great Britain, the one-month call of the Dortmund based cultural initiative Bohème Précaire in cooperation with numerous national and international partners attracted worldwide attention: Beside a lot of creatives from Germany numerous artists from e.g. Taiwan, Korea, Japan, Paraguay, France, Poland, Slovenia, Iran, Russia, Italy, Spain, Mexico, Portugal, Chile and Argentina participated in the call. More than 200 works were submitted per e-mail. All proposals will be exhibited in the online gallery kunst.labor, a channel of the cultural portal 2010lab.tv. At the beginning of November, an international expert judging panel chooses five projects which will be invited to the exhibition at Ständige Vertretung.
Members of the judging panel:
Dr. Inke Arns (Hartware MedienKunstVerein, Dortmund)
Amira Gad (Witte de With, Center for Contemporary Art, Rotterdam)
Dr. Barbara Honrath (Goethe-Institut Niederlande, Amsterdam)
Klaas Kuitenbrouwer (Virtueel Platform, Amsterdam)
Duncan White (St. Martins College, London)
In December, the exhibition floor offers a creative, communicative and temporary free space that is open for experiments and the encounter with artistic positions. On every evening throughout the duration of the exhibition there will be events like talks, film screenings, science and poetry slams, workshops, concerts, dj sets, parties and more – presented and organised by the Ruhr Gestalten Magazin.
.