Three birds with one stone – Hamilton NZ july 2012
A lot of  New Zealand art I came across deals with the Maori – Pakeha question as seen from both sides of the divide.  Another subject that crossed my bow a lot is the New Zealand versus England-Europe-USA thing.
I blogged about Marion Maguire earlier, she's on show at Waikato Museum in Hamilton. Maguire took Hercules and injected him into a New Zealand settler environment, with great aplomb and great effect. Graham Percy, on show at the Rotorua Museum, took the opposite route. He's taken the proverbial Kiwi Bird places it had never seen before. Below is Kiwi Joseph Beuys, lecturing on his 'favourite subjects'. These subjects being borrowed from the nazi's ideas on woman's place in society: Kuche, Kirche, Kinder (Kitchen, Church, Children). In Kiwi Bird Beuys world these became Kiwi Kunst, Kultur und Kinder (Kiwi Art, Culture and Kids). Three birds with one stone!
I'm storing up ideas for Kiwi drawings of my own – photographing stuff left and right. Maybe do a little what if done in chalk? Tomorrow is my last chance – must pick up the courage to have a go.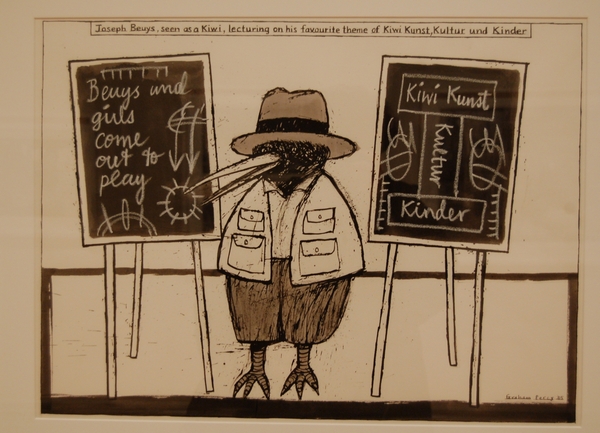 Joseph Beuys, seen as a kiwi lecturing on his favourite theme of kiwi kunst, kultur und kinder [2005]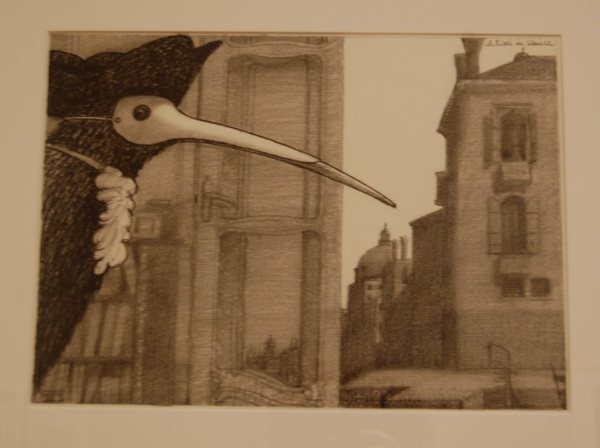 A Kiwi in Venice [2004]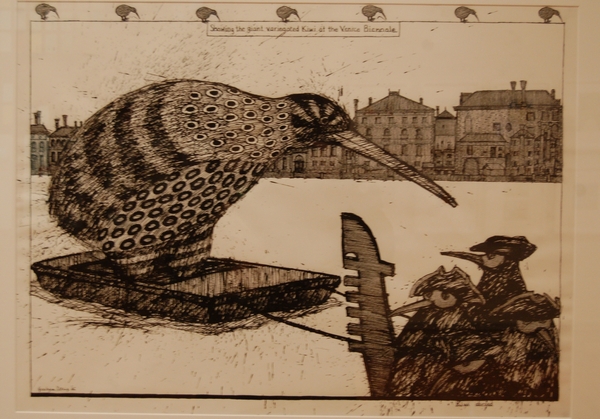 Showing the Giant VariegatedKiwi at the Venice Biennale [2005]