Frustration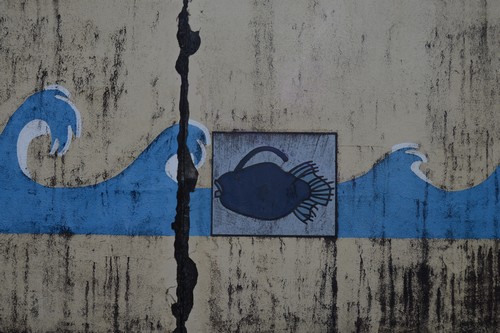 The Japan thing is going brilliantly – now in a quiet fishing village in a lovely restored Japanese house all made of wood. Great walks to be had, and karaoke singing  locals in the pub.
Drawing project is at a standstill though-  the book I chose is very resistant to doodling. And I can't draw diddly-shit anyways, even the people that decorated the tsunami-resistant-wall on the photo I'm posting are better at it than me. It doesn't help that I am sooo in two minds about Japan – it's lovely and ugly at the Same Time – people friendly and distant at the Same Time, too. Now that's not cricket!
I've tried just about everything I can think of on  the book – so far very few images that I like. Will carry on regardless, for I do know that I need to carry this thing past the frustration I'm experiencing. Blah!
And ok, for the record: going walking here has two options: steep up or steep down.  My leg muscles hurt after 4 hours on an – admittedly – lovely trail.