Count the ways
I've given my studio a new floor – sooooo very yellow! And I've seen every square centimeter of this floor sooooo many times….. so let me count the ways:
– helped carry the wood inside;
– the actual flooring was done by husband, but I supervised ;)
– sanded the planks;
– stained the floor;
– then stained it once more to get a more saturated yellow;
– first coat of lacquer;
– sanded:
– second coat of lacquer;
– sanded;
– final coat of lacquer;
– vacuumed;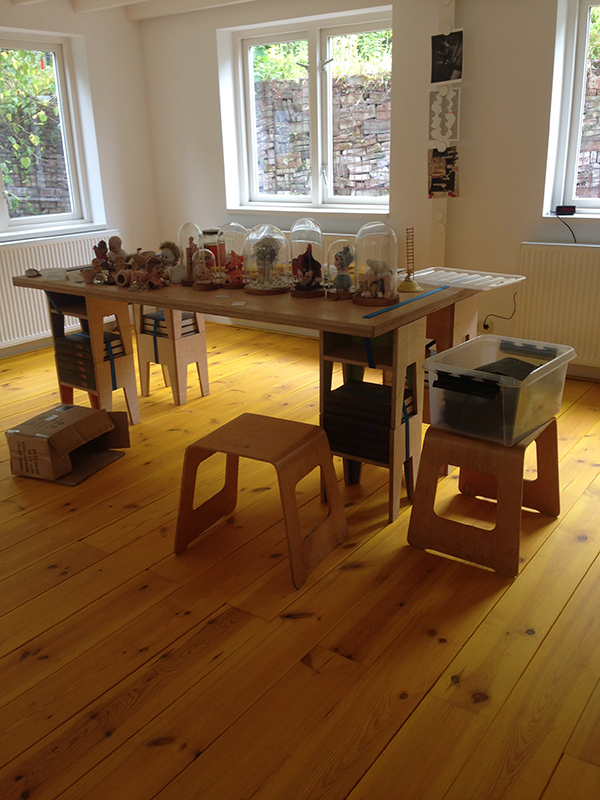 Then a 7 days wait – which is very long, I tell you. Then I had the pleasure of getting from storage the beautiful and multifunctional furniture Loes Glandorff designed and built for me, and finding its ultimate configuration. Which is a little like playing with a dolls house, only grown-up size –  and even more fun!
I have quite a reservoir of memories about stuff I used to make when I was a kid. Her is a list of these delights, I marked the ones I have already translated into grown-up life :
– making dolls clothes;
– making papier mache puppets for a puppet show:
– dying cloth;
– embellishing wooden sticks by wrapping colorful yarn around them;
– constructing a loom – the weaving was no fun but the constructing was magic;
– making stuff from leaves and other finds during walks;
– making a dolls house from a cardboard box; [studio]
– making furniture for said house; [studio furniture]
– making vases and bowls from papier mache;
– lego buildings – lots of lego buildings;
– a lego set of scales – with lots of wheels and rubber bands:
– choosing fabrics from my mum's scrap basket and starting a quilt – never finished, of course; [quilts]
– doing needlepoint;
– making paper weights from pretty stuff and a kind of clear plastic that was made by mixing two components;
– anything that could be made with clay or dough;
– doing knitting; [big knits]
– doing crochet; [galaxy project]
– picking small nosegays from my grannies garden (a wonder she let me);
– gathering seeds from my grannies garden;
– walking around in my grannies garden;
– planning my own garden – never materialised; [my present garden]
– building a tree house in a pear tree; [tree house in my garden]
Drawing is singularly lacking from this list – I never enjoyed it much. It was way too flat when there were three dimensions to be conquered.