Thanks, Theo!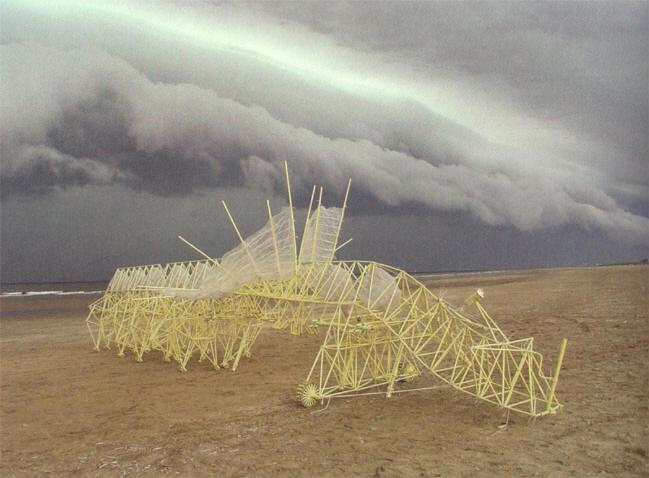 The book I am presently engrossed in is the story of Theo Jansen, Dutch artist and builder of beach animals made of yellow plastic tubing. His beach animals are known the world over – and justly so, I think.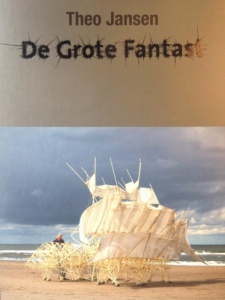 Theo is the reason I entered the world of the visual arts. I am a late bloomer, for I managed to reach the ripe old age of 45 without knowledge of or interest in art in any form or shape. So what kick-started me into the arts?
It so happened that my husband and I spent a weekend in the Hague about 12 years ago, and wandered into a gallery that had Theo's beach animals. I was totally bowled over by the combination of whimsy, singlemindednes, experimentativenes and the sheer poetry that he exhibited. The animals on show were unbelievable, as was the documentary in which Theo expresses his ideal of the beach animals' evolution. He wants to get to a point where herds of them will live in the dunes, procreating and so perpetuating themselves freely. 'If this is art', I thought, 'then let's have a closer look at it'.
My ignorance of art, the art world and the artistic process was profound in those days. I never visited musea or an art galleries, never read about art or even thought about it – it just wasn't on my radar. For expression, discussion and model making I had words, and numbers – which to me, in those days,r was totally satisfactory.
So Theo made me want to get to know the thought processes of artists. Which made me go to a place I thought they could be met: art school. Had a great time there, learned to draw – badly – and paint – even worse. Learned to express and evaluate ideas by way of images – I turned out to be pretty good at that. Best of all, I learned to withstand and even appreciate chaos – for a woman that once graduated from Delft University of Technology, this is a pretty cool achievement. Even met Theo once, who was in a very grumpy mood that day.
Anyway, the tapestry of my life became much more colorfull, chaotic and interesting because of my immersion in art. Thanks, Theo!