Tripping from my lips
Wintry day today – strange to see snow happen, for a lot of plants in my garden are in bloom and I'm in spring mode. I have lovey witch hazel, two types of viburnum and a goodlooking winter jasmine. Also hellebores, snowdrops, primroses and woodland crocus that form a tapestry in my border and under trees and hedges. Nice!
In the afternoon, when the sun came out, I took a break from preparing for tomorrow's class and walked a brisk walk around Zaltbommel. Aren't I lucky to be a. living in a pretty and pretty old town and b. self-employed? Zaltbommel used to be a fort – we've been fighting with the spanish (we won) and the french (we lost) from what is now my back yard. On the fortifications a landscaped park was made in around 1870 by a man named De Virieu, who was director of the local postoffice and politician and artist and landscape designer. He may have never slept …..
His park has been much neglected for decades, but is now due to be resurrected. As our garden abuts the park, we'd been invited to a preview of the park-prettyfying-plans. The landscape architect gave us a rousing speech about the specialness of our park, and promised us an opening up of lines of sight, nicely shaped entree's tot the park, better paths and dredged waterways. Also more variety in tree and shrub species, and even a tapestry of what in Dutch are called 'Stinzenplanten' i.e. naturalised exotics that were introduced in the gardens of the first stone-built houses, the 'Stinzen'.
I went and inspected the clearance work that is being undertaken now in the small area of the park that will serve as a pilot. First impression: good work! I like it that the brambles and tree-seedlings will no longer dominate, and can already imagine the new lines of sight. Maybe I'll come to miss the overgrown and seedy and slightly disreputable park that is now – a great place for hide and seek, and for going under the radar. The jury is still out on this, and according to the landscape architect it will take said jury a year or two before any conclusions can be drawn. 'Not to worry' he said, 'it will be goodlooking, for I have designed it'. I like it when people have this kind of self-confidence – it isn't a soundbite that would be tripping from my lips.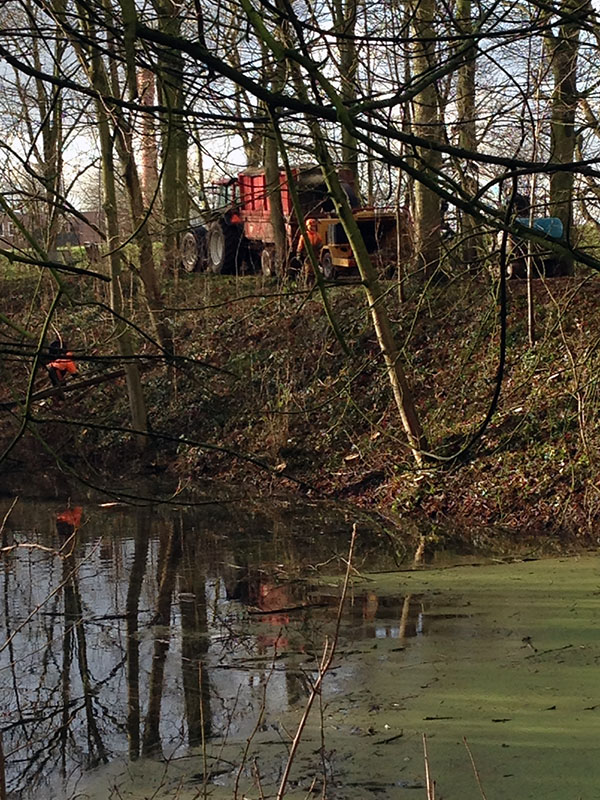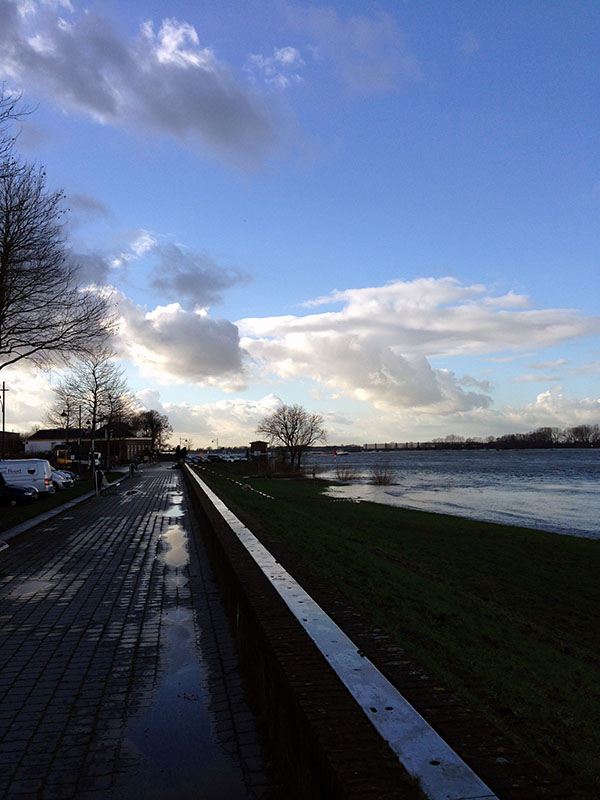 Later: while walking I picked a small posy – would you believe that cow parsley is in bloom? Well, it is – a few small plants in very sheltered spots. Picked some snowdrops, too, and a few small elder branches that are making new leaves in a pretty reddish color. ALso some small branches from a hawthorn-like bush that I cannot get figured out -here should be a heltpdesk for this kind of thing …. Then used a favourite small vase to put them in, now sitting on my kitchen table. To enjoy small things is not a small thing.