Inbetween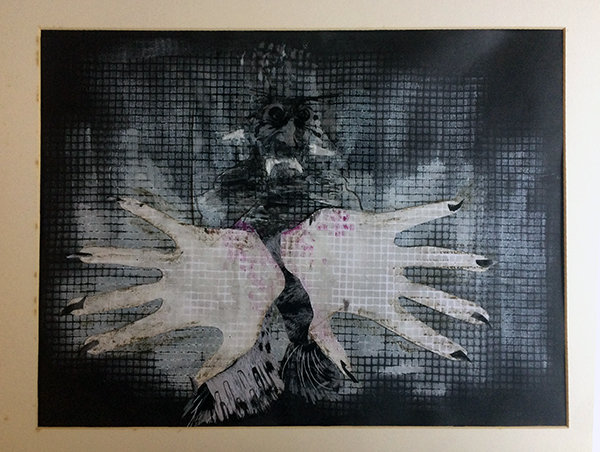 Wanted to blog about my excursion to the Bonnefanten Museum in Maastricht today, but hey – my site was hexed. Took me quite a while – and some help from the good people at Argeweb – to figure out what was wrong. Turns out I had bloated my site trying out various backup plugins. I dit not find one that does all I want it to do, should have known that deleting a plugin does not automatically delete the plugin's files. So had to do this by FTP today, always a little scary to look under the hood and tinker with the WordPress mechanism. I survived, though, and even better: my site survived!
So here are two collages I made under the supervision of the Bonnefanten Museum – they had a collage workshop where we were tutored in the art of assembling images. It wasn't innovative but it was interesting – and fun! I created two images representing shamans that are in-between human and animal form.
The exhibition that the workshop was part of is titled Unleashed: letting powerful forces run free. Guest curator Jan-Philipp Fruehsorge invited Dutchman Hans Lemmen (1959, Venlo) and American Roger Ballen (1950, New York) to co-create work. Blending together photos and drawings, both artists experimented with new techniques, compositions and materials. Pretty nice!