Pincers, slicers, grabbers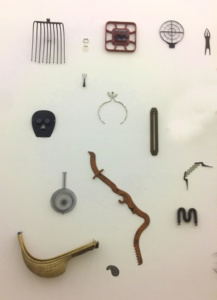 I'm not the only one scouring flea markets and second-hand shops for curious objects. Where I focus on mysterious kitchen appliances British architect and teacher David Usborne collects all kinds of curious objects. His collection has been gifted to the University of Arts London and beautifully photographed, to be seen here.
Now on display at Kunsthal Rotterdam until january 20th 2019 a selection of 140 bizarre things that all used to have a function. I noticed a surfeit of pincers, slicers and grabbers – now what does this tell us about the human race?
Also on display ACTION <–> REACTION, a retrospective of moving art. Came away dizzy, lots of things there that could trigger an epileptic fit. Fun, though. Best of show was Jesús Rafael Soto, Pénétrable de Lyon, 1988, a cube filled with plastic threads hanging from the ceiling that is meant to be walked through. Like walking through static rain it was – I repeated four times – after all, one must feed ones inner kid …
Fed the soul with art, fed the body with food: went to have lunch at Guiliano and had the best poultry sandwich ever. The main advantage of not being a kid anymore is that one has both money and time for this kind of treat :)