Shattered silence at the Rijksacademy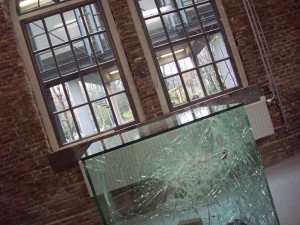 Visited the open atelier at the Rijksacademy this weekend. Will list (not in order of preference) work that I found inspiring.
To start with: Sarah van Sonsbeek. She's an architect who became an artist as well, and very interested in silence. She's recorded  her one-floor-up-noisy-neighbours and made this sound into an art piece when at the Rietveld, read more about it here (dutch). She made the work 'One cubic meter of silence' that was placed at the site of museum 'De Paviljoens' in Almere.  Vandals crushed it a few weeks ago. The 'silenced silence' was then brought to the Rijksacademy where I photographed it  in conversation with the architecture there. In a way, the wrecking of the work made it even more interesting, more interesting to look at, too. I find the way she works with the concept of sound very inspiring. I'm ready to tackle other senses,  'touch' and 'balance' for instance – have to find a way to connect this to a place like van Sonsbeek connected her work to  IJburg.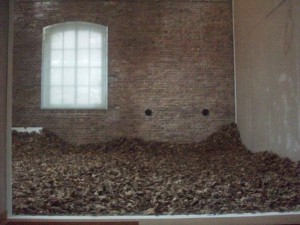 This is a picture of a work I fell in love with. I hope I got it's title right: "Dead leaves – still life – still alive" by Giorgio Andreotta Calo.  Picture doesn't show it really well, doesn't capture the smell of dead leaves that I love, doesn't capture the movement of the leaves as if there is a giant underneath that very gently breathes in and out.  The installation reminded me of the work of Guiseppe Penone and the Arte Povera movement. Is it coincidence that this artist is from Italy? Check his first solo show here. Andreotta Calo in 2008 walked 1600 kilometres between France, Spain and Portugal, expermenting with soliture, endurance and the landscape. Interesting to use walking as a metaphor…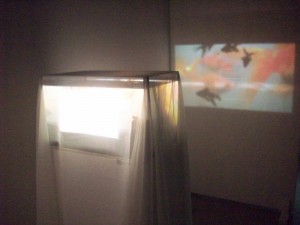 To the left an installation by Go Eun In named SEL(F)ISH. In it he resurrects a pet goldfish that died and left him very sad. It's a very poetic and layered installation, projecting a movie of the fish onto a fish tank and through it onto a screen. So, the image is  meshed with a mediatized image and with nature,. It also ties in with Go Eun In's Korean roots.  Very intelligent use of projection in all of his work, making them more memorable than 'flat' video's – of which there were many at the Rijks.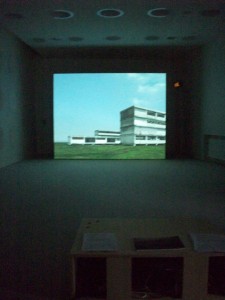 A room with a view of an imaginary landscape: John Gerrard resurrected a cuban school building virtually: "CUBAN SCHOOL (Community 5to of October), 2008. I hesitate to use the term 'virtual reality' here, as this is not the impression I got. The fact that it is a building created virtually, and seen through the virtual lens of a virtual camera rotating 360 degrees very very slowly, is emphasised just enough to keep me on my toes.  Reading up on him, I found that his works are made using a lot of VR software and a team of skilled assistants. Doesn't change the fact that this video had a powerful effect on me – can't pinpoint 'why' at present, will leave a question mark here.
Later: he makes me think of  James Turrell.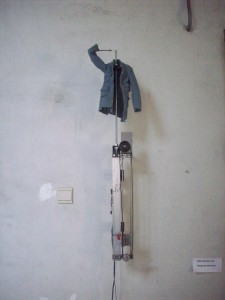 Harald den Breejen presented small soldiers-at-arms detecting and saluting passers-by. Inventive, fun to look at, playful. Of course, playful is my thing. Too bad I can hardly find a thing about den Breejen on the 'net, he just isn't represented very well. Would have liked more info, now it remains a sort of gimmick.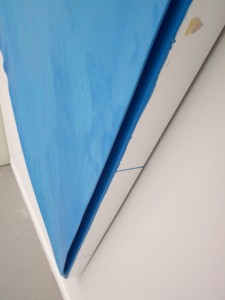 The only painter I am going to blog about is Marius Lut. I'm not much into painting, and not qualified to give an opinion about it. My interest in  this work  is spurred because  this painting  is a sculpture-in-disguise, or actually: two. He exhibited two  monochrome blue paintings, quite big and – at first look – simple. When given a second  look. they reveal that they are  layered in such a way as to create cracks between the layers and bubbles on the layer's surface. Now that I like! Imperfection seems to be of interest to Lut. His other painting on view, a black-on-white, is made interesting because of very tiny specks of black on the white part of the painting.
Lut must be one of those strong, silent, painterly types – even his own website doesn't give a lot of info about his concepts or the thinking going on alongside his painting. Fortunately Kunstbus has some text about him, but does this represent Lut's views? I am kept guessing …..
Now on to some more general remarks.
First: I noticed the return of the 'art object' – a superabundance  of sell-able objects.  Also, a lot of these works are 'flat' works – painting, drawing, video.  Anything to do with the recession?  Is the artworld regressing?
Second: very little site specificity. I visited the Rijksacademy for the first time, and liked its architecture a lot.  It is an intelligent mix of old(er) and new. Bit of a labyrinth, but then I am into labyrinths and love losing my way in them.  Most artists used the architecture as the proverbial white cube – just a space to hang ones' work in. Harald den Brejen's little soldiers were placed well – but could be placed in any corridor in any building.  Andreotta Calo's was the only work that resonated with the building it was placed in. Pity…..
Third: an artwork without any (form of ) provenance on the 'net – this can no longer be in times of hyperspace.
Later: looking at this blog again I noticed my preference for works with a great degree of (visual) simplicity. In this, I may be truly Dutch.