Study in contrasts
Staying at the Taragalte Festival was a study in contrasts. We slept in bedoin tents, arranged in a large circle. The tents were made of  a very loosely woven cloth, good to provide shade, not so good for keeping the warmth in or the sand and rain out. And we had a little of everything: rain, mini sandstorm, blue skies. I made a tent-in-tent construction with a piece of plastic I brought, so my bed and that of Eveline stayed relatively clean and dry. Food was provided buffet-style, and someone styled the food area to resemble a chic hotel. Which was totally at odds with the sand and the tents – but nice.
Best moments were those sitting in a covered, podium-like area, listening to the hum of conversation all around, with a great big silence under it all sounding  like a drum. Silence does have a sound, you know – or maybe I should say it is tangible.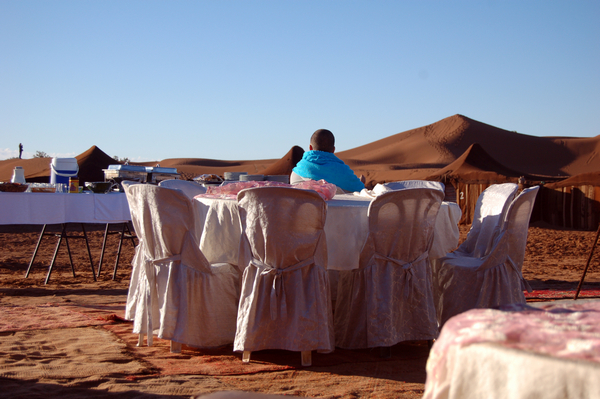 Could not resist the scenic pictures:



.