Impatience still one step ahead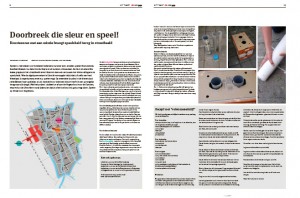 The editor of Straatnieuws said 'yes' – so the June special is in the bag! A PDF fell on my electronic doormat last friday evening. It was very surprising to see  the material I had sent to the ladies from Blik graphic design all together on 8 pages of newspaper-to-be. Strange thing was, I had my own try-out version of the 8 pages  in mind so strongly that the real thing felt a bit phoney at first. How I can get wedded to my own ideas ….   The ladies from 'Blik' did a really great job. Now I am impatient for the paper version. It seems my impatience is still one step ahead of me.
Anyway, it is a great feeling to have worked so hard and to have this as a result. The title is 'break up your daily routine and play' and the sub-title says: 'artist with a mission brings playfullness back on the street'. I'm really pleased with the text. Marcia, the journalist who wrote it,  did a great job. I've learned a lot from the way she works. She observed me, the game and the players, and fielded me questions inbetween. It was quite a challenge to keep in mind the things I wanted to talk with her about while doing the action at the same time. Having this weblog to refer to helped – Marcia has  been looking up some of my blog pages, it shows in the way she wrote  the article.
And I just plain love the pictures. Even though I blogged about it being weird not doing my own photography, it really paid off to have a professional photographer there.  I'm  not the only one loving the pictures – my teachers like them a lot, too. Thanks again Ilvy, Jaap and Arie!
Note: translate the article. Note: find out if it is possible to make a picture of the newspapers coming off the printing press.