Pit Stop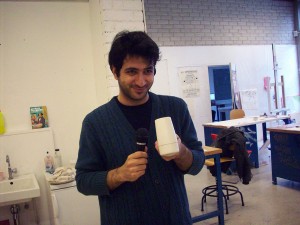 Exiting new development: we're going to turn our classroom into an exhibition space. The HKU has their final show of the (school) year on 24th – 27th of June. Us MaHKU students (we live in the same building) decided to joint in. We made a proposal for Henk, our dean, and he is enthousiastic about it.
Last tuesday Leo, Henk (our dean)  and me  got together today to discuss  plans for the group exhibition, working title:  PIT STOP. It is to be about our research processes, showing  'inbetween' things and end results.  Leo made a nice text about what it is we want to show, here goes:
"One of the interesting things about artistic research as a term is that is not officially defined yet as a model based on certain step by step set procedures to follow. Its nature seems to be aiming at being open and heterogenic and this is one of the reasons it could contribute to its own expansion. There are different ways in which one can approach an artistic question, a research question or issue.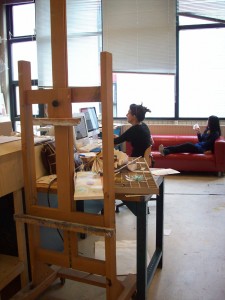 Based on the idea of artistic research, the exhibition could aim to explore and show a general stage of our own processes as a group in terms of the developing of our projects, the decisions we have taken, the ways we have followed at certain points, so according to that every step taken within our processes could be taken into account –sketches, drafts, notes- what we have discarded and left behind but also what is still there and finished works. The idea is not to have a white cube exhibition in which you always find finished works, since the conceptual frame refers to an activity that is always expanding into different stages without necessarily leading always to a final single conclusion. The exhibition could also focus on the fact that It is a starting point to work on and to depart to different territories.
Since we are an heterogenic group in terms of the nature of the projects we are dealing with, the exhibition could aim to follow the logic of artistic research as an undefined open and heterogeneous term, would try to keep this heterogenic approach and somehow make it visible through the space."
Henk found us  a young curator to work with us and – very important too – more space!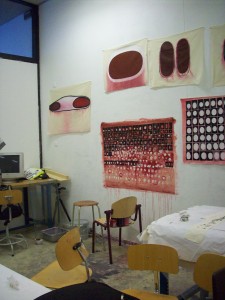 We've been coveting the classroom adjoining our own, officially the 'fashion' space but very rarely used by fashion students and teachers alike. For this exhibition we get to use it! So now we can make the exhibit really nice. After we've cleaned up a bit, of course. On the picture you can see the mess it is now, which is healthy for a working space but not good for an exhibition. Mops and buckets to be provided by the management.
I took this picture in November, it shows Farid trying out my 'sudden gust of wind' machine. Classroom looks even more cluttered now.
Timing for moving my installation to the IBB laan  is great, for I will have to clear out my atelier at the Tractieweg anyway. For I must make room for the bachelor students'  end-of-year show.  I am officially doing the masters and the last year of the  bachelors at the same time.  It proved to be very unpractical to have two workspaces and two sets of teachers,  and I can't show my stuff at two places at the same time.  So I decided to go for the masters exhibit.  Will be strange to leave Tractie behind, I"ve spent so much time there. ..
The  curator for PIT STOPthat Henk has approached is  interested and can make time on short notice.  His name is Krist Gruijthuijsen and he is an artist as well as a curator. I've never worked with a curator before, this is going to be quite exiting!  Hope he likes my stuff  a bit. I want to continue experiment no 005, it needs lots and lots more players for me to observe. I also plan to do a talk about using this blog as an artist's notebook.
Note: look at the footage and the pics that I made at Tractie on May 6th, haven't had a second to call my own since the Straatnieuws assignment.
Note: Dates to meet and work with Krist and prepare:
June 7 (group talk, individual talks)
June 17th  (individual talks)
Installment  22th and the 23th of June.
Note: What would be expected of participants:
– an hour's individual meeting with Krist for him to get to know us;
– a brainstorm session of half a day  with Krist and (part of) the group of participants;
– two days hard work to get our classroom ready and install stuff;
– every participant to give a talk about his/her process on either June 25th, June 26th or June 27th.
– help organise breakfast/lunch/meet&greet moments.
– help with stuff we haven't thought about yet.