Almost arrested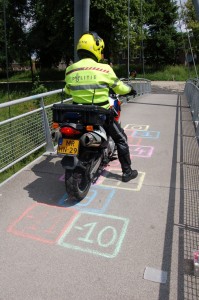 Went to Utrecht today to do another street action today. Goal was a small modern bridge that goes from the Catharijnesingel to the old part of town. I was curious to see what difference this location would make – it did make a difference, will write about this later. First I need to write about almost getting arrested.
When I was beavering away at my squares and numbers, suddenly a policeman on a motorbike came up the bridge towards me. Didn't believe my eyes, at first – totally in keeping with my goals, by the way.
Anyway, I asked him why he was there and he said, very politely "I came here to arrest you, ma'am". Turned out someone had called 112 and reported a graffitti artist on the loose at the St Martinusbridge. Took me some time & my best innocent look, but after a few minutes he agreed that he wasn't going to turn me in for drawing a game on the pavement with chalk. The argument that swayed him was me pointing at the clouds and saying they would soon rain it all away.
Anyway, he called off the three police cars that were  on their way to assist in my arrest. Then very politely waved goodbye and disappeared in the park. Leaving me with a question: did someone pull my leg in an elaborate way?