Had a ball?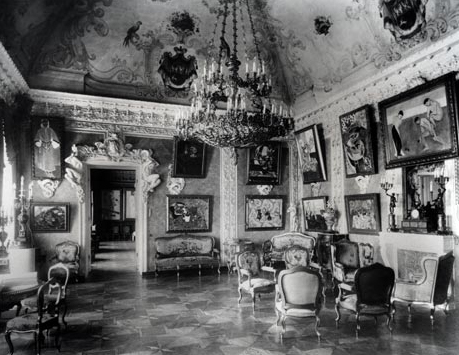 Went to the 'Hermitage aan de Amstel' museum in Amsterdam today. Building has been beautifully renovated. The artworks inside were good, too: "Matisse to Malevich" from the St. Petersburg Hermitage.
"The Hermitage's impressive collection originated with the famous Russian collectors Ivan Morozov (1871-1921) and Sergej Shchukin (1854-1936). Both were textile dealers, and they brought French art to Russia because they wanted to change the course of art in their homeland. They provided a tremendous stimulus. Shchukin was the most conspicuous collector of his time; no one else bought so many works by Picasso (51) and Matisse (37). Morozov and Shchukin dared to buy the revolutionary paintings – sometimes with the paint still wet – and during the turn of the century they dominated the art world in Moscow. What they bought was shown at regular intervals in their own house. This enabled the young Russian artists to see what was in vogue in France. With the outbreak of the First World War collecting came to an end. During the October Revolution of 1917 the two collections were confiscated, and in 1948 a large part of them was given to the Hermitage in St.- Petersburg."
What I liked best were the pictures of the interiors of these two collector's homes, walls bursting with early 20th-century avant-garde.  What a difference with the way we treat ourselves to paintings  today. We get them  spoon-fed,  one by one, with proper captions and in  solemn silence. I think these paintings might be be homesick for the time they were together,  talked with each other, competed, giggled, had a ball…
A couple of years ago I wandered into the Hermitage  gardens by accident. It was still  a nursing home at the time. I liked the atmosphere, it was a special place.  Was very pleased today to see that the sober cloister-like sereneness of the enclosed gardens was still there.  Gardens were done by Michael van Gessel who has a habit of being very generous with the size of the objects he designs & also keeps his gardens very un-cluttered.