Invited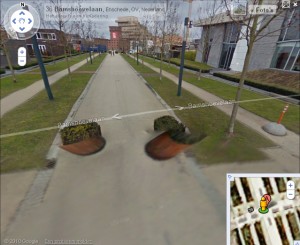 Came home yesterday after a very long day of teaching (in Amsterdam) and preparing for CATCHING UP (in Utrecht). Glad I took the time to check my mailbox: it held an invite to participate in the Enschede Museum Night with a 'Spelen op Straat' action – date is July 3rd,  pretty soon. Cool!
Said I'd be happy to participate, arranged the details today. The event is in Roombeek, which is the part of Enschede that has been totally devastated by a fireworks factory exploding on May 13th, 2000. Will be interesting to see how it is rebuilt and made coherent again. Roombeek  now houses the Rijksmuseum Twente (origins: the collection of the Van Heek family, Twente textile barons), a media lab and a branch of ArtEZ art academy, that with a number of other institutions form  a 'cultural mile'  joining Roombeek to Enschede's inner city.
I will draw a game and see how people react to it. The game will be different this time from my earlier experiments because it will be presented as art. Interesting!