CATCHING UP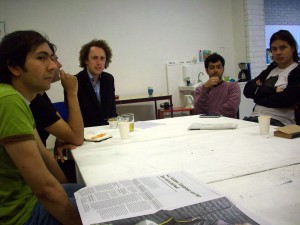 Curator Krist Gruijthuijsen  did what curators do: he changed the name of our exhibition from PIT STOP (see blog) to CATCHING UP. New name is  cool with me.  Our exhibit coincides with the HKU end-of-term exhibit,  June 24ht – 27th at the Ina Boudier Bakkerlaan 50 in Utrecht.
This is his preliminary text Krist cooked up to go with the exhibition:
"As an in-between of sorts, this series of Master presentations tries to unfold and display the notion of artistic research within the artist's practices. Framed into a tight schedule, each of the participants hosts their own slot inwhich they present processes of artistic developments. In such a way, the artists are confronted to publicly display their thoughts, emotions and uncertainties towards the notion of artistic inquiries."
We will each have a 45 minutes slot & the space you see on the pic as a box/toolbox to present our research in. My Experiment no 005 will be play-able on friday  June 25th  between 11.30 en 12.15  and on Saturday June  26th between 15.30 en 16.15. Looking forward to it!  Note: think  about ways to invite people at short notice.