Presentation time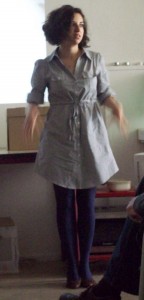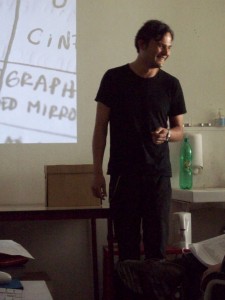 Exam today, 35 students and 15 minutes each, you do the math …. It was exhausting, but fun.
Pics show fellow students Laura Pardo and Alejandro Ramirez talking with our teachers after their short presentation was over and question time began.
My presentation was ok. It seems that my nerves don't show – a small miracle, but one to be grateful for. It will be two more weeks before feedback comes our way. Unless (and I quote from the Exam Entry Review Protocol):
"anyone who has not had a call from the programme leader before 12.00 am on June 3rd, can assume he/she has passed the review".
Most difficult question: "how come your stuff gives me a deja-vu feeling – in what way are you different from others?" Apparently there are lots of art projects where people draw on streets with chalk.  The answer I didn't give: I need the deja-vu moment. I use games that are recognisable in a flash, visually strong devices that project a lot of expectation. Expectation that I use  to draw people into a  game without having to explain or exhort. Once people are in, the fun starts & I can mess with their perception and their minds.
Need a more fluent and conceptual answer, though. Will let this simmer for a while.